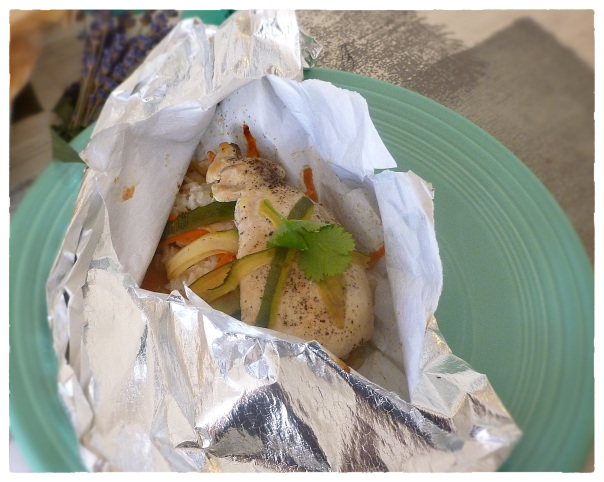 .
From our Food Goddess, TaMara:
So, Valentine's Day. I'm not a fan. I'm not anti-Valentine's Day anymore than I'm anti-New Year's Eve. But I am of the opinion that going out to a restaurant on Valentine's day is a recipe for disaster: so-so food and rushed service, even at the best restaurants. Instead, I like to cook – ok, I guess that's nothing new. One of my favorite menus for the big day is here. This year I was looking for something new. I'd been thinking for a while about testing out a recipe "en papillote", quite literally, in parchment. I thought this would make for a special dinner.

I tested out two types of parchment – the first was a parchment bag and the second was parchment lined foil. Below you'll find detailed instructions and a couple of simple recipes.

But first, what are your plans for Valentine's? Do you go out, do you cook and most importantly, is there chocolate?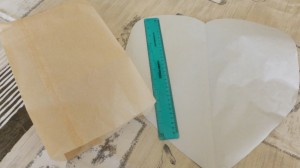 In any of these recipes you can use plain parchment, as well. With the parchment paper – plain or foil lined, you start by cutting it into a heart shape. I cut it at 16″ long, but it probably would have been ok at 12 inches.

I focused on chicken, but the technique is often used for fish. Kirk Spencer has a lovely stuffed fish recipe here. You can adapt any of these recipes to fish or chicken. The key is to make sure you have enough liquid and you make a tight seal in order to poach/steam the ingredients.

The recipes were pretty simple. In the parchment bag, I placed carrot and zucchini sticks, a chicken breast and drizzled with lemon butter, garlic, rosemary and sage. I added a bit of butter and lemon slices on top.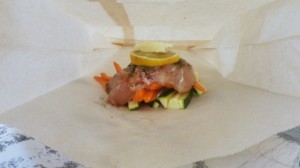 On the parchment I put cooked rice, vegetable curls (using the vegetable peeler), chicken breast and drizzled with soy sauce and rice vinegar.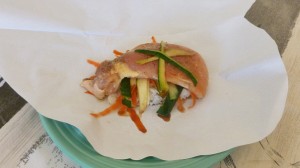 Then fold up the edges and seal tightly. I really like the foil for this, it was easy to roll up and seal.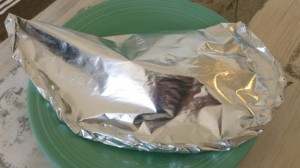 While you're putting everything together, preheat the oven to 400 degrees and heat a baking sheet. Place the sealed packets on the heated baking sheet. Bake for about 15-18 minutes, until chicken is cooked through.

You can serve it on the plates in the packets or plate it up. I like having the packets.

All in all, I think I preferred the parchment with the foil back. It was as easy to deal with as the parchment bag, a bit easier to arrange the ingredients, it sealed better and I think the presentation is prettier.