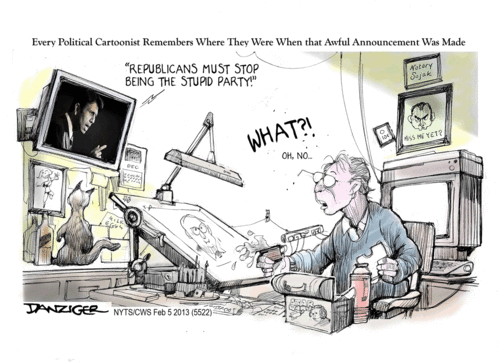 (America's greatest political cartoonist Jeff Danziger's website)
.
Okay, the Repubs were gonna give up being 'the Stupid Party', just as soon as they stopped fighting over whether the Robber Barons or the Teahadists deserved the blame for the 2012 debacle.
But then (speaking of Bobby Jindal) it was announced that Marco "Savior of his Party" Rubio would be delivering the Republican rebuttal to what the horse-race touts are breathlessly hyping as "the most important State of the Union of his entire presidency."…
And that Rand "Mitt Romney Lite" Paul would be delivering the "Tea Party response" on behalf of the Tea Party Express.
Per Paul Constant:
… The response to the State of the Union is one of the hardest speeches a politician can give: They look tiny compared to the grandeur of the SotU, and they're forced into an opposition position, which doesn't generally appeal to people. And if they fuck up the optics of the moment, it can take years to politically recover. It's really rare for someone to come away from the response speech looking stronger than they went in, but if any politician can do this, it's Rubio.
Not with Senator Aquabuddha (Dixie's Great White Hope for 2016) fidgeting in the background, he won't. I think it'll be a pretty good metric of whether the Repubs are actually ready to give up mainlining the Stupid if the news media, and/or Fox, find an excuse to cut away from Rand "Hi, Dad" Paul's rebuttal-to-the-rebuttal. And as of right now, I don't expect that to happen.