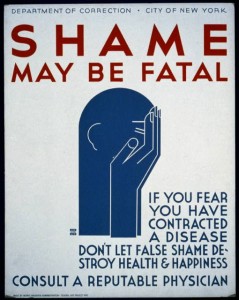 Economist Andrew Francis has done some regression analysis on historical sex data and argues that the cure of syphilis, not the birth control pill, is the cause of the sexual revolution. This is interesting:
Francis also notes that historical syphilis trends very closely mimic the AIDS epidemic of the last few decades. The rate of syphilis deaths in 1939 was nearly as high as the rate of AIDS deaths in 1995, and the two diseases accounted for roughly the same percentage of deaths in those years. Additionally, studies suggest that a similar increase in risky sexual behavior may have occurred after the development of an AIDS treatment plan, the "highly active antiretroviral therapy."
As for Francis' conclusion, his paper is behind a paywall, but I don't see mention of another fact: 16 million men and women, out of a population of 132 million at the time, served in the armed forces during World War II, and their training included sex ed in the form of VD films, which encouraged condom use. I assume that educating 12% of the population, all of whom were just out of puberty, plus the experiences they had traveling around the world, had something to do with changing the nation's attitudes towards sex.
Prior to the invention of penicillin, the Wasserman test was invented in 1906, and a 60% effective cure for syphilis was invented in 1912. The poster to the left, and these other posters were produced as part of the WPA program in the 30's to educate the population on the detection and curability of syphilis, and they're fascinating relics no matter what you think of Francis' paper.