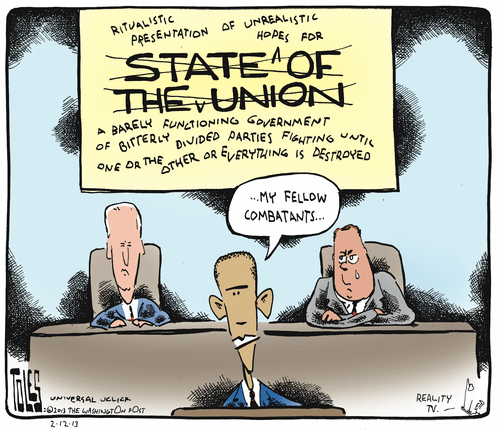 (Tom Toles via GoComics.com)
.
So, today is Darwin Day, and of course the Republican Party is looking forward to this evening's many opportunities to 'refute' evolutionary theory via political kabuki. Dave Weigel at Slate, among his predictions for tonight, highlights a detail I hadn't noticed:
…In all of the soft-focus stories on the speech's invited guests, two names matter: Ted Nugent and Gabrielle Giffords. Texas Rep. Steve Stockman, an embarrassing member of the class of 1994 who lost in 1996 but managed to come back in 2012, has invited Nugent to attend the speech, despite Nugent being (humorously!) on record threatening the president's life. Giffords, invited by Sen. John McCain, is the most compelling figure in the gun control (sorry, "gun safety") movement. Democrats know that the mere sight of Giffords, or the sound of her voice, spurs a Pavlovian response: The listener cannot help but hear and think about ammo clips and background checks. Stockman knows … actually, there's no way to end that sentence.
The Very Serious People at the NYTimes deign to notice, for once, the ideas on which President Obama actually campaigned and won:

President Obama on Tuesday will seek to move beyond the politics of the moment to define a second-term agenda built around restoring economic prosperity to the middle class, using his State of the Union address to unveil initiatives in education, infrastructure, clean energy and manufacturing.

Having secured four more years in the White House by arguing that the nation's economy is tilted against ordinary Americans, Mr. Obama will vow to use the power of his office to recapture robust job growth and economic expansion, according to White House officials who have seen the speech. Both eluded him during his first term.

Mr. Obama will insist that only "a thriving middle class" can stimulate long-term growth and that Americans must be given the tools to succeed, according to the officials, who discussed the speech on the condition of anonymity. His call for new government investments — many of which Republicans successfully blocked in his first term — is an effort to shift the emphasis away from simply reducing the deficit and will serve in part as an answer to Republican criticism that he has not focused enough on jobs…
Not sure I'm going to be able to watch the State of the Union live — anybody here planning to do so?