I know that Zandar already touched on this story, but I have to confess. I really thought I was beyond the possibility of shock at the Republican Party's fundamental disregard for civilized norms of political life.
But news of the Freedom Works (sic and sick!) bestiality/Hilary video made me gag.  This is simply not acceptable behavior under any construction.  I would like to see every MSM reporter with access to the GOP caucus in the House and Senate ask each member if they denounce or stand by this gesture.  Get the feckers on record. Demand apologies — to Secretary and Senator Clinton, at least — and to women in general.
But beyond that bare minimum of a penalty, of public shaming, of reminding the American public what Washington Republican operatives think is appropriate, I want to draw attention to the part of this story that captures the reality of sex and power in a male-dominated power structure — like that at Freedom Works and the Republican Party of whose apparatus it forms a part.
That would lie in this line of David Corn's MoJo piece:
Two female interns at FreedomWorks were recruited to play the panda and Clinton. One intern wore a Hillary Clinton mask. The other wore a giant panda suit
Two female interns were "recruited."  That's what they're calling it now.
To the credit of at least one person at Freedom Works, a former staffer there asked "How was that not some form of sexual harassment?"
Well, yeah. You'd kind of think that more or less any organism above the level of a slime mold would kind of figure that asking the two least powerful people in your office to play to your girl-on-girl fantasy for the camera might not actually pass muster in this century of the anchovy.
An aside (to justify the picture below*): At least the lawsuit that should have resulted would be less painful than older options to deal with out-of-line-males…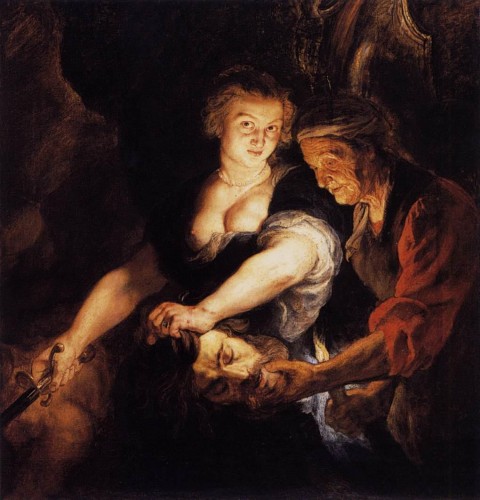 But apparently not.  Yes, at least marginally smarter folks prevailed and the video, though made, was not shown in public.  But the interns will have the memory of that shoot forever; that's their experience of Republican politics in action.  FREEDOM!
This is the crux of the matter:  you shouldn't have to teach leading members of a national political group that women are not simply mute vessels to be filled with whatever sexual fantasy one may have.  That someone had to tells you that we face not just an opposition, but a pathology.
Factio Grandaeva Delenda Est.
PS:  I do know that Freedom Works is not the Republican Party as a whole; I even recognize that many Republicans, including those in or close to power are likely as disgusted by this story as I am.  But this is the harvest of decades of commitment to the idea that men should make key decisions — transvaginal probes, anyone — for women presumptively incapable of managing their own lives.  Its their party, their platform:  they broke it; they bought all the shame that comes with it.
*Here ya go, Aimai: this is a story for which subtlety is beside the point.  So Judith it is…
Peter Paul Rubens, Judith with the Head of Holofernes, c. 1616.