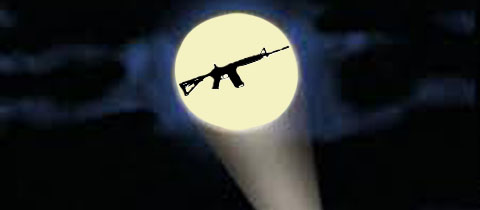 On Planet Earth this morning, my family and I got up, breakfasted on scrambled eggs, toast, coffee and orange juice. Then my husband left for work, and shortly thereafter, I drove my daughter to school and came back home.
At no point during our morning routine were we required to employ an AR-15 to lay withering cover fire to repel the menacing gangs of Latin American drug lords who threatened to accost us as we moved from home to chicken coop, from house to vehicle or from vehicle to school building or workplace. That's because we don't live in Wayne LaPierre's Insane World [warning — link to Bowtied Wingnuttia]:
It has always been sensible for good citizens to own and carry firearms for lawful protection against violent criminals who prey on decent people.

During the second Obama term, however, additional threats are growing. Latin American drug gangs have invaded every city of significant size in the United States. Phoenix is already one of the kidnapping capitals of the world, and though the states on the U.S./Mexico border may be the first places in the nation to suffer from cartel violence, by no means are they the last.
At some point today, I'm going to have to visit the grocery store, and if I somehow emerge from that riotous hellscape of looters and drug-addled violent criminals unscathed, it's entirely possible that al Qaeda terrorists will murder me in the parking lot to steal my 2001 Beetle or my green bag containing pet food and a baguette:
Hurricanes. Tornadoes. Riots. Terrorists. Gangs. Lone criminals. These are perils we are sure to face—not just maybe. It's not paranoia to buy a gun. It's survival. It's responsible behavior, and it's time we encourage law-abiding Americans to do just that.
Yes, law-abiding citizens who want to model responsible behavior must purchase additional firearms, because 300 million guns clearly isn't enough:
We will not surrender. We will not appease. We will buy more guns than ever. We will use them for sport and lawful self-defense more than ever. We will grow the NRA more than ever. And we will be prouder than ever to be freedom-loving NRA patriots. And with your help, we will ensure that the Second Amendment remains America's First Freedom.

We will Stand And Fight.
Honest to god, if the only danger was that these people would accidentally shoot their own dicks off, this would be positively comedic. But this insane death huckster has a controlling interest in many of our congresscritters. Goddammit, fellow sane people, this needs to change.
[X-posted at
Rumproast
]