I think I may be adding this young lady to the household: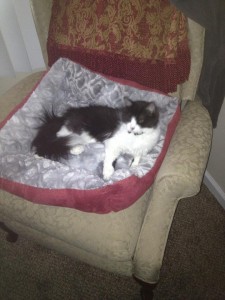 That is Ariel, who was is living with my sister in Connecticut until she can find her a forever home. My mom is up visiting, and informed me that Ariel is just the sweetest, neediest cat ever, and what can I say, she had me at needy. So I am very seriously considering heading up to my sister's in March and bringing this young lady home and adding her to the tribe.
FYI- her original name was Oreo, but my mother thinks she is way to feminine and sophisticated to be an Oreo, so she changed her name to Ariel.
Maybe she'll teach Tunch how to use the cat tower. Yeah, right.