Here is a new pic of Ariel, who will be down here from Connecticut on Wednesday or Thursday. It's harder to take pictures of her than Tunch, because she actually moves, so this is a little blurry: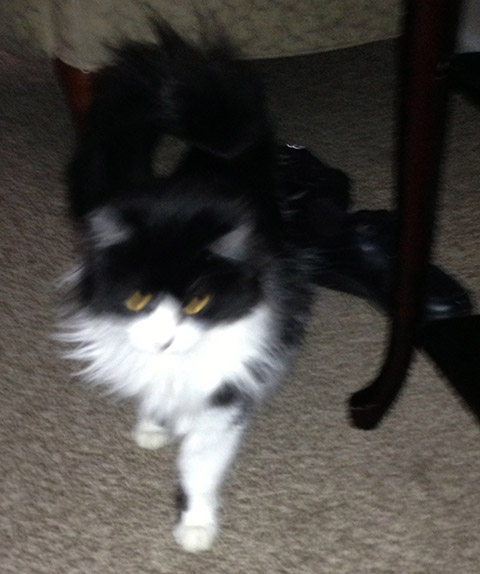 I cleaned the spare bedroom, vacuumed the whole place, changed the sheets, and put the gate up, trying to get rid of the smell of Tunch so she will have her safe zone. I'm really kind of excited.
I'm also a touch worried that I really am slipping into hoarder status. What can I say, I love my animals. I took a nap today at around three after the Pens beat the Sabres, and climbing into bed, I had to lift the comforter for Lily and Rosie to get in, and as I was passing out, Tunch came for a visit. When I woke up an hour later, I heard Tunch purring next to me, Lily was snoring in my ear and drooling on my shoulder, and Rosie was nestled up next to my thigh. How does it get any better than that?
Why, by adding a cat to purr in my other ear. WINNING!
I'm not sure I like the name Ariel or Oreo (her name is Oreo, but my mom calls her Ariel because Oreo is not elegant enough- and for my mom, a dog person, to fall for a cat, you know she is a keeper.).
So, Balloon Juice readers, what does she look like to you? A Sascha, maybe?