It's hard to believe that a wedding magazine would let homophobia get in the way of making a buck, but the editor at Weddings Unlimited Unveiled rejected this ad from photographer Anne Almasy: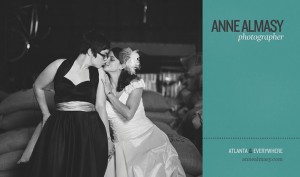 The name of the magazine isn't "Weddings in Depends", so presumably their demographic is the same young one that supports gay marriage by 2:1, but instead of running this ad, they're getting shit from Dan Savage on Twitter.
I remember the first time I saw a passionate kiss between two women – it was sometime in the 80's on a college campus, and two women were making out in front of a auditorium doorway just as a movie was getting out. They went out of their way to make a statement during a time when all same-sex affection was in the closet. Thirty years later, this ad is anything but a statement: it's just a slice of everyday life, and if you're too much of a fossil to recognize it, you either need to get to work on your time machine, or find another line of work.