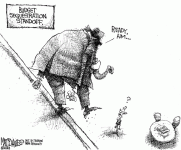 (Matt Davies via GoComics.com – click link for full-sized image)
.
Chris Cillizza, laird of WaPo's 'The Fix', is a proud courtier in the Media Village and the worst sort of endless-horse-race political tout. For just those reasons, I believe Chris Cillizza has the right take on "Why Congress won't win a sequester showdown with President Obama":
… Republicans in Congress would do well to avoid a confrontation with President Obama over the sequester.

Here's why — in 3 very simple steps:

1. Regular people have no idea what the sequester is right now and, even once it kicks in, aren't likely to pay all that close of attention to it unless they are directly affected by it.

2. Obama is popular with the American public

3. Congress is not…
***********
Local weathercasters are breathlessly predicting another 5-12″ of snow here, for the third weekend in a row. (As commentor EFGoldman put it: February is 28 days it take six or seven weekes to slog through.) Apart from those of you in the Midwest still cleaning up after your share of this latest front, what's on the agenda for the weekend?