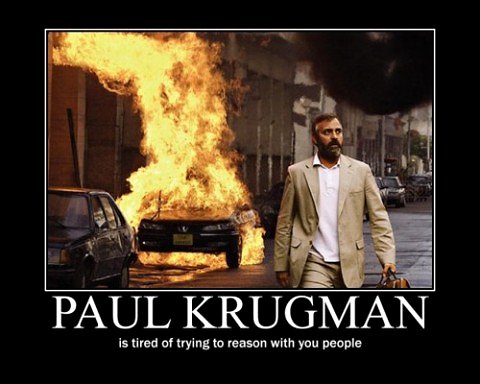 (D.B. Echo at Another Monkey)
The network suits may have to put a time-delay on the Sunday morning bobblehead shows, because the good Professor is losing his patience with hacks and idiots:
As I've written on previous occasions, the Bernie Madoff phenomenon helped me understand a lot about the persistence of bad economics. Madoff flourished through "affinity fraud"; his investors thought he was their kind of guy, so they didn't look hard at how he was allegedly making money. And I realized that a similar phenomenon explains the enduring popularity of goldbugs and fiscal doomsayers — including, say, the Wall Street Journal editorial page — despite years of being wrong about everything; their devotees, who consist in large part of cranky old white men, see kindred spirits and can't see past that to the consistently terrible analysis.

But it's not just the goldbugs who benefit from affinity fraud, a point driven home by Ezra Klein's piece on Alan Simpson. Simpson is, demonstrably, grossly ignorant on precisely the subjects on which he is treated as a guru, not understanding the finances of Social Security, the truth about life expectancy, and much more …

So what is it that makes Simpson the figure he is? Clearly, it's an affinity thing: never mind his obvious lack of knowledge, his ludicrous track record, reporters trust and idolize Simpson because he's their kind of guy.

And think about what it says about them that their kind of guy is this cantankerous, potty-mouthed individual, who evidently feels not a bit of empathy for those less fortunate.
And, on the NYT op-ed page, "Sequester of Fools":
…As always, many pundits want to portray the deadlock over the sequester as a situation in which both sides are at fault, and in which both should give ground. But there's really no symmetry here. A middle-of-the-road solution would presumably involve a mix of spending cuts and tax increases; well, that's what Democrats are proposing, while Republicans are adamant that it should be cuts only. And given that the proposed Republican cuts would be even worse than those set to happen under the sequester, it's hard to see why Democrats should negotiate at all, as opposed to just letting the sequester happen.

So here we go. The good news is that compared with our last two self-inflicted crises, the sequester is relatively small potatoes. A failure to raise the debt ceiling would have threatened chaos in world financial markets; failure to reach a deal on the so-called fiscal cliff would have led to so much sudden austerity that we might well have plunged back into recession. The sequester, by contrast, will probably cost "only" around 700,000 jobs….
Today, back on his blog:
… The point is that a large part of the reason we're locked into such a mess is careerism. And yes, that's quite vile, if you think about it: politicians and pundits alike letting the world burn — probably unconsciously, but still — because their personal position would be hurt if they admitted to past mistakes.
Assuming "we" survive this perfect economic shit-storm, nobody is going to be able to tell the next generation that "we" didn't know what was coming. As with so many other recent disasters, "we" — the people in control — just decided that short-term careerism and a religious affiliation to discredited theories trumped the evidence of "our" senses.