For reasons that remain a complete mystery to me, some of you are worried about Tunch with this new cat. I have no idea why, the fat guy weighs 20lbs and has been with me for eleven years, weathered two dogs, and a 7.7 lb cat is not really something that is going to get in the way of his busy schedule of jumping on my bed and headbutting me until I let him out at 7 am, eating, and denting the couch: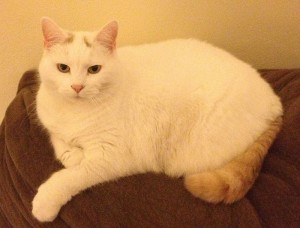 Zsa Zsa (who is now wandering the house and now exploring the basement as she expands her comfort zone in the house) is in no way a threat to the fat man. She was hissing at him through the gate, and rather than respond, he rolled over and fell asleep. The big man is fine.
Also too, I think this was a good picture.