Zsa Zsa appears to have adjusted to her new home enough that it is time for the rest of us to start adjusting to her presence. Been a while since I have had a young and spry kitty in the house (and yes, Tunch was one once), so Zsa Zsa has provided some unexpected entertainment.
I was sitting here with the girls on my lap and Tunch on the couch shoulder watching an old episode of Top Chef (I have two left), when this black and white fluffy streak came racing into the living room, crawled halfway up the cat tower, jumped onto the spine of the love seat and ran down it, jumped over to the couch and ran down the spine of that, jumped over Tunch onto the headrest of the la-z-boy, then down onto the end table and on the ground, and just like that she was gone back into her bedroom.
It happened so fast that no one barked or jumped (Tunch and Lily slept through it), but after it was done Rosie looked at me quizzically with a "WTF just happened?" look. I just shook my head and told Rosie "I got nothing."
Here's a pick of the little stinker last night getting some lap time during the Oscars: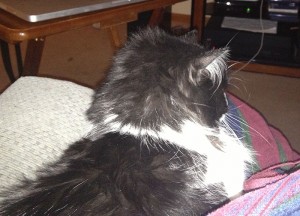 And here she is returning the favor a few minutes later: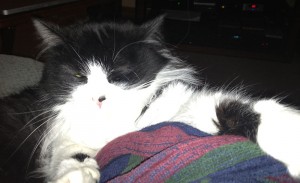 She's going to fit right in.