Went to Stubbs for the Gospel Sunday Brunch, which was fun, but I actually enjoyed the spinach enchiladas more than any of the meats. The gospel band downstairs was exactly what you expect a gospel band in the south to look like, complete with a a guy staring intently at his Roland as he plays.
Austin is kind of a weird city- lots of people out and about on a Sunday afternoon, and the bars are all filled with people drinking bloody mary's and mimosas. Austin feels like New Orleans would if the entire population was alcoholic hipsters.
Speaking of hipsters, they are fucking everywhere down here. They're like cockroaches- if you see one, you see dozens. You can't walk five yards without dodging some skinny guy with lambchops, an atari t-shirt, and powder-blue corduroy pants, cruising down the road (sans helmet) on a fixie adorned with Arcade Fire stickers. Hipsters are like trustafarians with bad taste in edgy tattoos and body piercing. I'm kind of shocked that Rick Perry hasn't declared a two-week open hunting season there are so many of them everywhere.
Off for thai food for dinner.
*** Update ***
Btw, saw this guy perform last night and he was AWESOME: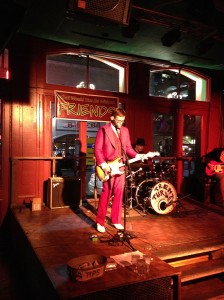 His name is Trent Turner, and his website is out of date, so just look for him on youtube. Guy can play a guitar.
BTW- this may be one of the best iphone pictures I have ever taken, so clearly the key to my success in photography is drinking my weight in Maker's Mark first. And I am not a small man.