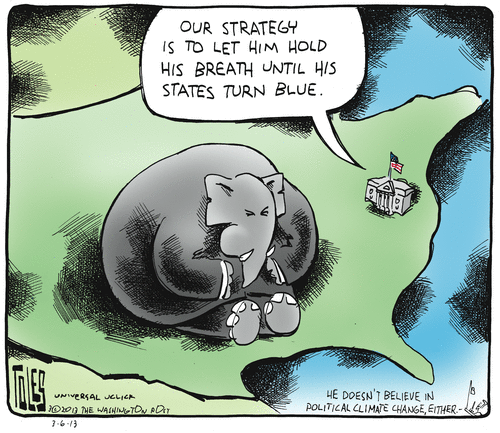 (Tom Toles via GoComics.com)
.
Speaking of self-willed brain damage, Wonkette's Stefan BC alerts us that a leading practitioner has scored a notable award from the experts in his chosen field:
If you have never heard of the group "Accuracy in the Media" (AIM), do not feel ashamed. AIM can be easily lost in the fetid open sewer that is the conservative movement's various political groups/tax shelters. However, once a year this organization decides to rise from above the primordial soup of right wing insanity to engage in a blatant act of trolling against the forces of progressivism and the entire concept of veracity by giving some jackass an award for "outstanding achievements in investigative journalism." This year that jackass is Jim Hoft, the man universally known as the "dumbest man on the internet." It is certainly a huge honor for Hoft, and outside of fellow St. Louis resident/moran Josh "Randy" Sullivan we could not think of a more deserving designee…

If you are the sort of person who occasionally takes a gander at the right wing portion of the internet and wonders how exactly it evolved into a place where obviously unstable folks are celebrated as demi-gods, Hoft is probably going to be your patient zero for most of the crazy shit that passes as facts over yonder. Hoft is now one of the main players in this never-ending and throughly depressing LARP of doom where any mundane news story can immediately be fashioned into PROOF of a wider conspiracy to destroy the underpinnings of exurban America. As one can imagine, he is universally incorrect in whatever assertions he draws from his RSS feed, so as a result the world is frequently treated to an ever-increasing number of blatantly stupid stories that Hoft flushes out of his laptop and out into the wider world…
Much more detail, and the perfect natural history avatar for Hoft, at the link.
Apart from pointing & mocking, what's on the agenda for the evening?