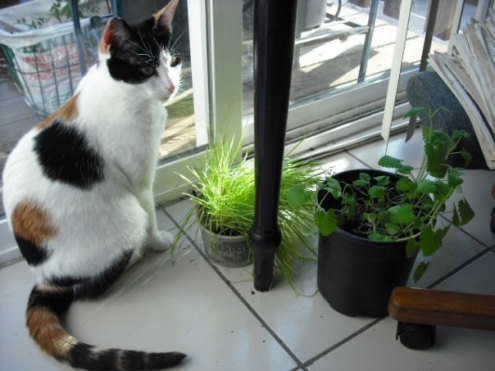 From lurker JulieS:
Zigzag is a friendly and outgoing calico cat who is looking for a new home ASAP. She is healthy and her shots are up-to-date.

While in my family, she has been a mostly-indoor cat, though she is very curious about the outdoors. Zigzag spends her waking hours hanging out in cardboard boxes, chewing on said boxes, bathing, climbing, basking in the sun, scratching on her post, and napping. She does not enjoy being picked up, but she will gladly warm your lap on her own terms. She prefers to drink running water, but she will drink out of a bowl if no one is watching. She is sometimes verbal, especially in greeting your arrival home. She is used to having a fellow feline to cuddle up with and seems inclined to nurture-dominate other cats. She had one litter of kittens before being spayed and joining my family. She is approximately 7 or 8 years old.

Occasionally Zigzag urinates outside the litter box, but I believe this can be resolved with consistent attention and/or access to the outdoors and more stimulation.

My ex took custody of Zigzag when we split up last year, but he can no longer care for her. I love Zigzag dearly, but my landlord will not allow me to have another cat.
If you are interested in Zigzag, or know someone who might be, send me an email at AnneLaurie (at) verizon . net (click on my name in the right-hand column) and I'll put you in touch.