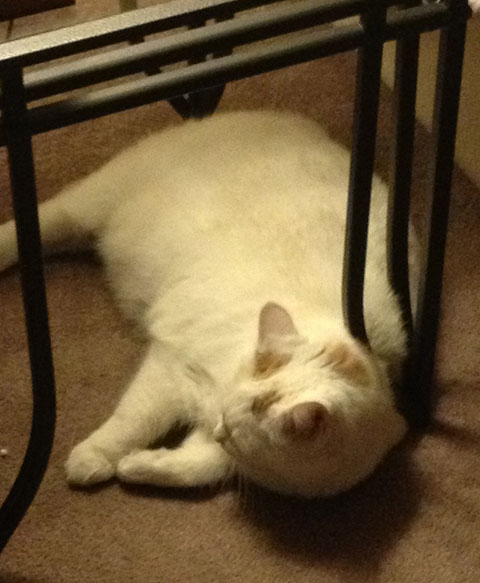 Today was just a beautiful day here- 60 degrees and blue skies, so I took the girls on a lot of walks and then gave them both baths, since it had been a couple months and the dogs were starting to smell a little, well, doggie. So I gave them a bath with my favorite dog shampoo, this Natural Chemistry Natural Flea and Tick Shampoo
that just makes the girls smell great.
Spent a half hour letting Zsa Zsa love all over me, and man is she an aggressive lover- there was heavy petting involved. Such a little sweetheart. She comes out a lot more now, and I figure in about 2-3 months she will be no longer spending most of her time in the spare bedroom.
While I was lying there with Zsa Zsa, I started thinking about the website and how I just don't seem to post as much anymore. Part of it is we have so many people posting, so half the time I want to post on an issue I go to blog about it and someone else has already covered it, but that is just an easy excuse. As many of you know, I used to just refuse any contact with anyone from this blog, but for the last year I've been coming out of my shell. Posting pics of my fat self, going to the DNC, meetups in Austin, and as I was lying there petting on Zsa Zsa, I realized what had changed.
I think I may be happy. I'm serious. It's so much easier to blog a lot when you are angry all the time, but right now I am at a point where I'm pretty happy, and I gotta admit, it freaks me the fuck out as much as it may confuse you. I'm not used to it. I can't remember the last time I had an anxiety attack, and things just seem to be going well (and I fully understand I am cursing myself).
My family is doing well, I get to see my folks all the time and am talking to my siblings more than ever, work is good, the pets are good, we're heading into spring and gardening and blue skies and green grass and flowers, I have a lot of friends I love, I have a lot of interests to keep me occupied, and I guess I am just going to have to come to grips with the fact that I am happy. The only thing missing is that Regina King still will not return my calls. Regardless, being happy and contented makes it harder to be cynical and angry about everything, even though there is so much to be angry and cynical about. I'm sure this won't last, but there you have it.
Also too, the shoots for the daffodils are starting to come out.