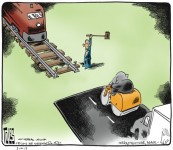 (Tom Toles via GoComics.com — click link for full-sized image)
So, Jeb(!) Bush was scheduled to appear on five separate Sabbathday Gasbag shows today, which speaks volumes about the level of political discourse in our media. And if the Washington Post's preliminary report is an indicator, it's going to be a loooong four years:
President Obama won a second term in the White House in part by "dividing the country," former Florida governor Jeb Bush (R) said in an interview that aired on Sunday morning.

"I think the basic part of his campaign was that those that were successful weren't paying their fair share, even though we have incredibly high taxes for high income Americans," Bush said on CBS News' "Face The Nation." "I think he ran a campaign of them and us. And it was quite effective, that somehow the Republicans don't care about the large number of people."

Bush said in order to win future elections, Republicans have to offer a "compelling alternative" to that narrative, which he said was untrue. The former governor said he sees such an alternative view taking shape….
… which he's not gonna share, maybe because his 2016 GOP rivals might be listening, or maybe because "dividing the country… us against them" has been the sole successful GOP strategy for the last forty years, and Jeb (!) is the legacy candidate of the Repub "traditionalist" wing.
There is video at the link, although I don't recommend looking at both Jeb(!) and Bob Schieffer if it's anywhere near dinnertime in your area.
***********
Apart from this low rent roadshow version of "The Aristocrats", what's on the agenda for the end of the weekend?