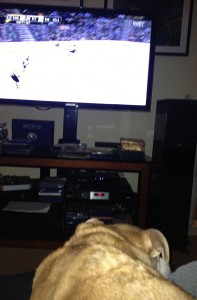 Spent the entire day DYING from a sinus infection. Going from 75 in Austin to 30 up here to 70 for two days and now back to thirty put the shithammer on my sinus activity. I briefly considered taking the DeWalt to my temple.
Watched the Life of Pi yesterday, which I was totally prepared to hate but ended up really enjoying. It really is visually stunning, and if you pretend that Richard Parker is actually Tunch, it makes sense. But it was just a beautiful sensory experience, and this comes from someone who hated Avatar. As I wrote elsewhere, the Life of Pi was visually Koyaanisqatsi for middle-aged squares.
Just stabbed myself in the meat of my palm while cleaning and sharpening knives, so I need to go dress this again. See you tomorrow unless I bleed out.
Sorry to step on you, Doug.