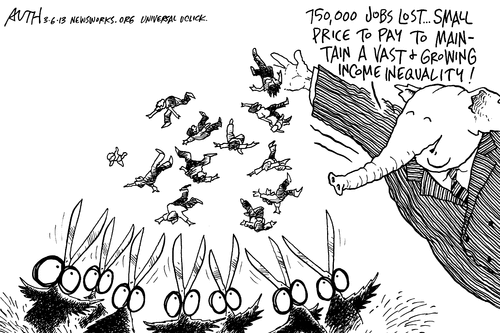 (Tony Auth at GoComics.com)
Alex Pareene, at Salon:
It is hilarious how much the centrist deficit-hawk Grand Bargain cheerleaders detest Obama and blame him for his failure to get a Grand Bargain, because he often seems like the only person in Washington who legitimately, sincerely wants one.

So Barack Obama did his "charm offensive" — he spoke, in real life, to Republican members of Congress — and everyone agreed that it didn't count because he didn't mean it. Reaching out to people in order to attempt to persuade them to support a policy goal only counts if you sincerely want to speak to those people, everyone knows that.

The problem isn't actually that Barack Obama was insufficiently charming. The problem is much more simple: He is campaigning for policies Republicans don't support. Barack Obama wants to cut the deficit. Republicans don't care about the deficit. Barack Obama wants to cut the deficit by raising more revenue and cutting social insurance programs. Republicans hate taxes and don't actually want to cut social insurance programs for old people. So, "charm" is not really the problem….
***********
Apart from watching President Obama gain useful experience in dealing with intransigent teenagers, what's on the agenda for the evening?