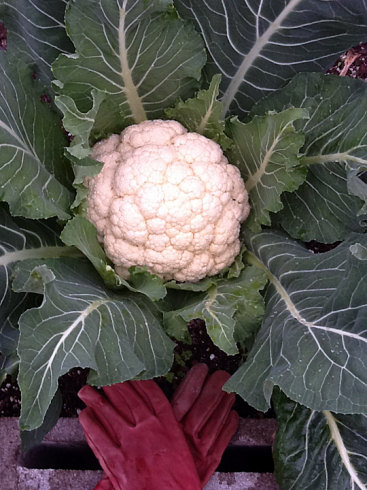 From commentor Marvel:
It's been a mild Winter here in the Pacific Northwest, but it's still a little early to be out there mucking about. We'll throw some ceremonial (sacrificial) potatoes in the ground tomorrow in our yearly ritual and I'll probably sow some peas next week, but we've got at least another month before things get serious, garden-wise (and we'll plant spuds for real come May).

Here's some fun garden news: we planted some cauliflower last year, mid-Summer, planning to harvest them in late Fall. The stars didn't line up, and the little gems got all leafy, but never set any fruit. Instead of ripping them out, I left some of the vegetation in place to help support healthy soil in the bed. Pulled back the poly cover recently and found that we've been gifted a REALLY early crop of yummy beauties!
Still too early to really start gardening here north of Boston — but we've got the first yellow daffodil buds showing on the earliest-to-bloom clump, hugging the south-facing front of house. And six-inch-high green shoots on the hardy, unkillable, species-Siberian irises which started as a potful of thinnings from our first rental condo in Auburndale 20 years ago and have proliferated relentlessly ever since. The alpine strawberries in pots by the front door actually started leafing out a couple weeks ago, but two subsequent snowstorms put paid to that overoptimistic effort…
Today the Spousal Unit & I went to the Boston Flower & Garden Show, which is a shadow of its old self, but even two dozen landscaped exhibits and a hundred or so vendors' booths were enough to make me enthusiastic about digging in the dirt again. While I was pre-ordering my annual batch of tomato plants, I also overinvested in "root pouches" from A.M. Leonard; after seeing how the professionals used similar pouches in their various displays, I'm thinking how I can use the pouches for 'temporary' displays of annuals and shade-loving plants in spots that have gone unimproved because they're undiggable or don't get much sun or where the dogs can reach them.
What are you all doing to get your gardens ready for another growing season?