Program notes, here.  It's the third Wednesday of the month, which means I'll be talking to a guest on the Virtually Speaking Science Strand at Blog Talk Radio and in Second Life.
This month my interlocutor will be a first for me:  0ne of my former MIT Science Writing graduate students, Emily Anthes.  Emily is (a) great — a fine writer, a ferocious reporter, and someone with a sharp-elbowed, quirky view of the world.
She's just out with a new book, Frankenstein's Cat, on what's happening now — and what the implications may be — in a range of ways we've begun to modify our pets and other animals.  The book treats of genetically modified fish that glow in the dark; dairy animals manipulated to produce therapeutically valuable proteins in their milk, the concept of editing the genomes of useful (and/or decorative) animals, cloning, brain hacking (that's the roaches) and more.
Emily is an engaged reporter on all this; she has strong points of view.  Broadly, she favors the side of intervention; in part, as she notes, because it's hardly as if the history of selective breeding leaves us exactly virginal in the matter of using our fellow creatures as means, rather than ends in themselves.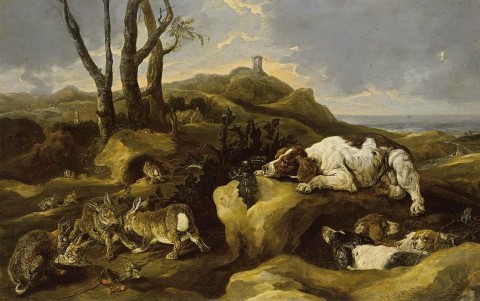 The question isn't whether we should manipulate animals, but how, and with what ethical lens — and that's what we'll talk about.
We'll do so both as a live and listen-later audio cast, and in front of a virtually (and virtuously, I hope) live audience in Second Life, tonight at 7 p.m. Eastern Daylight Time, 4 p.m on that far coast I used to call home.
Should be fun. Emily's the real deal.  Listen in; buy her book; make an old teacher happy.
Image: Jan Fyt, Spaniels Stalking Rabbits in the Dunes, 1658