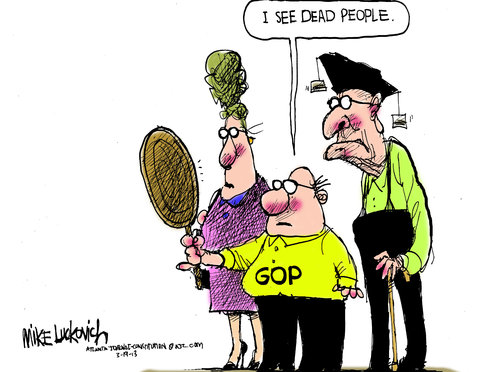 (Mike Luckovich via GoComics.com)
.
Good for Matt Yglesias:
The biggest problem the liberal faction of the Democratic Party generally has is getting heard at all, so I'm really glad that David Brooks dedicated a column to explaining his problems with the Congressional Progressive Caucus budget that was released last Thursday. In a way, I think Brooks' complaints make the case for the CPC budget more strongly than any of the praise I've read…

Long story short, I would say the CPC budget has the following main advantages over the Ryan budget:

*More food and medical care for poor children.
*Less air pollution and a meaningful chance to avert the worst consequences of climate change.
*Lower taxes on middle-class and working-poor families.
*Medicare reform focused on reducing the unit price of health care services rather than increasing it.
*More funding for transportation infrastructure and basic research.

Brooks says the Ryan budget has the following main advantages over the CPC budget:

*High-income individuals will be less inclined to take vacations or retire and more inclined to work long hours.

In a world where trade-offs are, to an extent, unavoidable, I don't see that as an enormously difficult choice.
***********
Happy Vernal Equinox to all Balloon Juicers in the northern hemisphere. (Even those of us still digging out from under 11-1/2″ of slush, looking for our frostbitten daffodil buds). What's on the agenda for the first day of "Spring"?