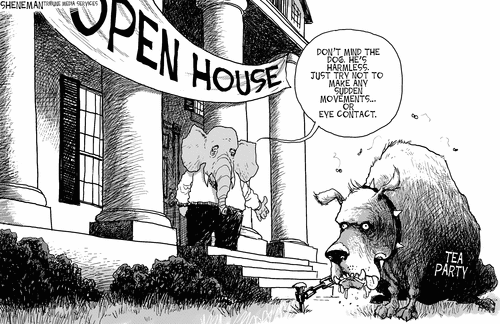 (Drew Sheneman via GoComics.com)
.
Tom Edsall in the NYTimes on "The Republican Autopsy Report":
… There is at least one crucial problem that the authors, all members of the establishment wing of the party, address only peripherally and with kid gloves: the extreme conservatism of the party's primary and caucus voters — the people who actually pick nominees. For over three decades, these voters have episodically shown an inclination to go off the deep end and nominate general election losers in House and Senate races — or, in the case of very conservative states and districts, general election winners who push the party in the House and Senate to become an instrument of obstruction.

The highly visible presence of the candidates these voters prefer – recall the party's Senate nominees in Missouri and Indiana, Todd Akin and Richard Mourdock, and their bizarre views on rape and abortion — suggests that the Republican Party has a severe, if not toxic, problem: a septic electorate that, in the words of the Mayo Clinic, "can trigger a cascade of changes that can damage multiple organ systems, causing them to fail."

If that is the case, then the task of the Priebus commission should not have been to diagnose the party's problems, but to conduct an autopsy…

More broadly, the alliance between Rove and the R.N.C. does substantiate the view that establishment forces are driving the reform movement within the Republican Party, an establishment that includes much of corporate America, including the Chamber of Commerce, the Bush family and its allies, and the more moderate, traditionalist donor community….

In January, I pointed out that "If the conservative movement continues on its downward trajectory, the American business community, which has the most to lose from Republican failure, will be the key force arguing for moderation."

That moment has come. The Priebus report and Rove's Conservative Victory Project together mark a significant escalation in the battle between the center and the right over the soul of the Republican Party. What has yet to be determined is whether they are fighting over a patient who can be quickly resuscitated or a patient with a chronic but not fatal illness — or a corpse.
If Dave Weigel's reports from the 'True Conservative" redoubts are correct, the Tea Party brigade don't want to be Hep C, they want to be MRSA, or maybe C. difficile:
The Heritage Foundation gathers House conservatives once a month for an open-press, open-blogger panel called "Conversations with Conservatives." Every month, the tone has grown both more militant and more optimistic. An example: Two members referred to the agreements made among all Republicans at their retreat in Williamsburg, Virginia as the "Williamsburg Accord." That accord "keeps the sequester cuts" while sequencing a debt debate that Republicans can live with….

… The conservatives argued that they'd taken the worst the president and the press had to offer during the sequestration fight. They'd won. They would win again.

"In Vietnam, we took a hill and defeated the enemy, then we retreated and let the enemy take over," said South Carolina Rep. Jeff Duncan. "In the sequester we've held that ground … the momentum is with us."

There was a funny tension here: The party leadership was following their lead, but that leadership was discussed in the terms usually reserved for a rival military power. An accord! …

"We tried two moderate Republican candidates, McCain and Romney, and we lost both times," said Duncan. Why not go back to the model of Ronald Reagan? No one was cruel enough to point out that Reagan's electorate was 88 percent white, and Romney's was only 72 percent white, but Duncan hinted at a solution for that. Get more whites to show up! "In Florida, 350,000 white Republicans did not show up on Election Day."…