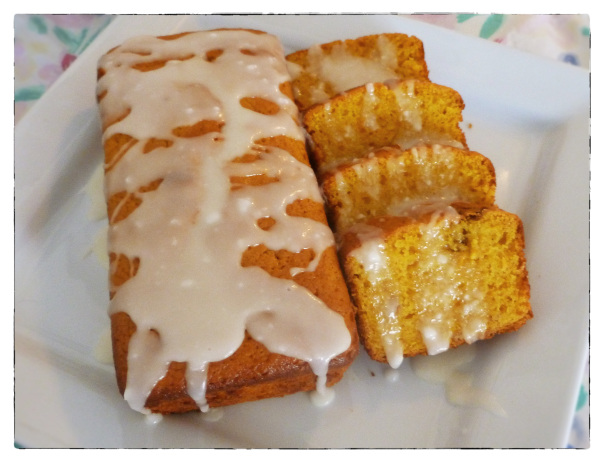 From our Food Goddess, TaMara:
I love fruit breads. It took me a long time to move beyond banana bread, but strawberry bread and lemon bread are high on my list of favorites. I had never made orange bread before, but this week when it was clear I had a half dozen Clementine oranges that were going to go bad if I didn't use them soon, I decided to give it a try.

Basically, what I did was adapt my strawberry bread recipe, with some additions I thought would work with oranges – ginger and a bit of limejuice.

Here's the original Strawberry Bread recipe (click here).

And here is Nigella Lawson's Clementine Cake recipe (click here), which is what I usually make with my extra oranges.

I love oranges and I'm always looking for different recipes for them. Do you have a favorite orange recipe? What about other fruit recipes? Hit the comments with your ideas.

Now for the featured recipe:

Orange Bread

1 ½ cups flour
3/4 cup sugar
1/8 tsp ground ginger
½ tsp salt
½ tsp baking soda
1 tsp baking powder
2 eggs
½ cup vegetable oil or butter
6 Clementine oranges
2 tsp limejuice

Glaze
2 cup powdered sugar
2 tbsp melted butter
1/2 tsp vanilla
Hot water
blender or food processor, large mixing bowl, loaf pan – greased and lightly floured

Bread:

First, I did these in mini-loaf pans and it made 3 loaves. It will make one loaf in a regular loaf pan.

Peel 3 of the oranges and split in half. Cut the remaining 3 UNPEELED oranges into 4-6 pieces. Add all to a blender or food processor and puree until smooth. Clementine peels are easily blended smooth and give a nice tart flavor – like instant zest. If you're using regular oranges, peel them all and add about 2 tbsp of orange zest to the recipe.

In mixing bowl, whisk together dry ingredients. Add eggs, oil, oranges, limejuice and stir until all ingredients are moistened, do not over beat. Spoon batter into loaf pan. Bake at 350 degrees for 50-60 minutes (30-45 minutes for mini-pans) or until toothpick inserted comes out clean. Cool in pan 5 minutes then run knife around edges & remove to cool on wire rack.

Glaze:

Blend together sugar, butter and vanilla, add hot water a bit at a time until it is thin enough to drizzle over loaves. If you add too much water, just add some more sugar. Let glaze cool completely, stir again and then drizzle over completely cooled loaves.