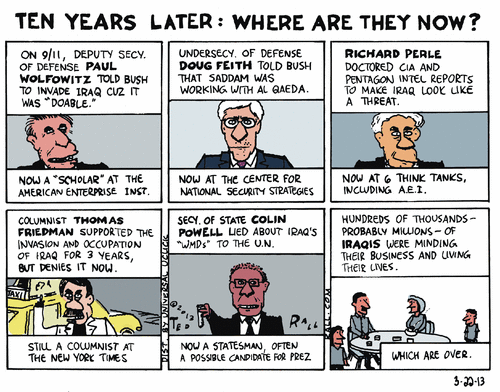 (Ted Rall via GoComics.com)
.
No forgiveness until the offender has owned up, though. Doghouse Riley shreds the tissue-thin facade of "who could have imagined?" Republican historicism regarding Dubya's Grand Mesopotamian Adventure, as represented by the sodden online avatar of Peggy Noonan:
Iraq marked a departure in mood and tone from past conservatism.

Flummery. There's a direct line to the Spanish American War, if you can be bothered picking up a pencil. And every minor grievance since, real or imagined. There's certainly a broad highway from the post-Vietnam rewriting of history, which was largely a "conservative" enterprise, to the "we're invincible so long as we try" routine here.

And, by the way, how 'bout y'all just quit hiding once and for all? Particularly behind this notion of "conservatism" as the most principled money-making scheme in human history…

Let's just take a gander at that timeline, huh? The war began in Basra. Basra was considered to be a sweet, sweet walkover (they're Shi'a! proclaimed the most literate among you, which did not include your then-sainted President, who didn't know the difference). So much so that we let the Brits handle walking in on rose pedals while we prepared for the tough stuff; Basra was a sort of Pacific War of Iraq. It was supposed to be over in a day. I'm not making that up. Took two weeks. In retrospect, it's too bad we couldn't stick to the 14:1 ratio for the rest of the thing.

That first night we also announced that Shock 'n' Awe had, not certainly, but almost positively probably killed Saddam Hussein in his golden bed. A tell like that costs you your pants elsewhere.

Then, for no fucking military reason whatsoever, we managed to outrun our supply lines on Day Two, but, fortunately, PFC Jessica Lynch, the Pat Tillman of Iraq*, single-handedly wiped out a battalion, or something.

Then we took Baghdad, and realized we'd only brought enough MPs to guard the Oil Ministry. Fortunately, Don Rumsfeld was there to explain to us that that's how it goes.

That fall a few dead-enders turned up to flummox the United States military with improvised WWI weapons.

Sadly, after that, things went downhill. Enough so that a couple years later Ramesh Ponnuru noticed….
***********
Apart from not letting the grifters, sociopaths, and useful idiots succeed in their campaign to eliminate history in favor of marketing slogans, what's on the agenda for the start of the weekend?
There's some kind of basketball thingie on the teevee, yes?