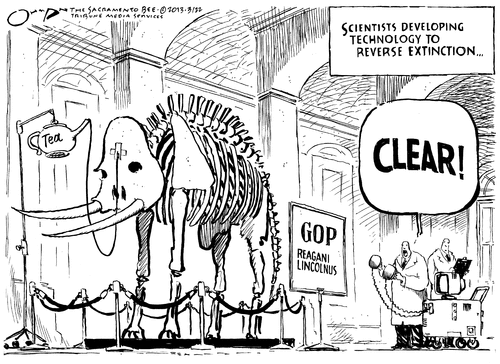 (Jack Ohman via GoComics.com)
.
I remember Democrats and DFHs joking about the two biggest blowhards of the 2012 GOP Klown Kavalcade hooking up, but it seems like reality keeps outrunning satire. Dave Weigel reports:
No story will bring you more joy today than Joshua Green's thoroughly reported autopsy of the Gingrich-Santorum "unity ticket" that never happened. It overflows with hubris, from Santorum's insistence that this campaign by two thoroughly rejected politicians would have been strong in the general election to Santorum consultant John Brabender's idea that Gingrich would drop out during a televised debate. The scheme collapsed because — surprise to end all surprises — Gingrich thought he belonged at the top of the ticket…
"It's one of those things that only happens in political movies, never in real life," [Gingrich pollster Kellyanne] Conway says, wistfully. "But for a moment it was real. It was fun, it was heady, and—for those few weeks—it was real."
***********
I have the image of a modern Laurel & Hardy fighting with each other over who takes the podium at the first debate with President Obama.
Apart from checking to make sure Andy Kaufman is really dead, what's on the agenda?