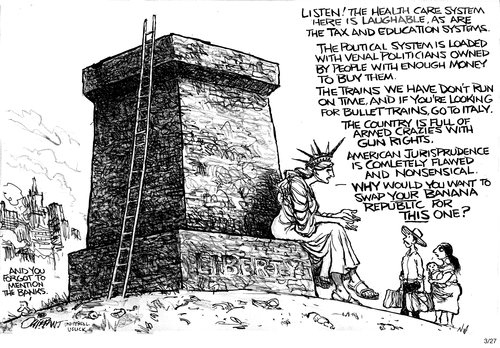 (Pat Oliphant via GoComics.com)
.
Roger Ailes (the Good One) takes notice of the upcoming National Review cruise:
The lineup for the August 2013 National Review Cruise in Norway has just been announced, and it's even more of a sausage fest than usual. Every one of the "guest speakers" on the cruise, from Jonah Goldberg to Dick Morris to John Podhoretz, is a genetic male. Not a single lady, or Maggie Gallagher, among them. I suppose this makes sense if your target customers are elderly widows and confirmed bachelors of a certain age….
Click over for the perfection of his title.
Ashley Judd, sadly, will not be running to replace Mitch McConnell.
And why (inquiring minds want to know) was Rep. Louie Gohmert (R-Morlocks) lurking around the Lincoln Memorial well after dark, committing "Oversight of Park Service"?