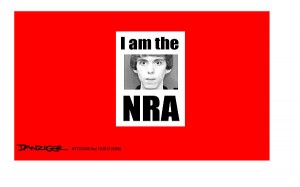 The prosecutor released some documents in the Newtown mass shooting case, including a list of items recovered from the shooter's home:
Also recovered were a National Rifle Association certificate, seven of Lanza's journals, drawings that he made and books, including an NRA guide to the basics of pistol shooting, authorities said. The NRA did not immediately respond to a request for comment.
Also in the report: Lanza fired 155 bullets at Sandy Hook in less than five minutes. If you think about it, that feat really is a tribute to the NRA's lobbying efforts and training program: Thanks to that organization's hysterical response to any effort to restrict magazine capacity because FREEDOM, Lanza had nine 30-round mags, of which he expended nearly six at Sandy Hook, leaving three full.
Lanza managed to squeeze off a round every couple of seconds with the semiautomatic rifle, and as far as we know, he maintained a 100% personal safety record with the Bushmaster, registering kills only among intended targets. And when he finally pulled out the Glock 10mm, he hit his intended target with the pistol too. It would be churlish to deny credit for this stellar marksmanship to his NRA training.
[
Image
]