It's Passover, as I'm sure y'all know, and tonight we'll be heading over to a friend's house for a distinctly unorthodox (and late) second seder.
The seder — the ritual Passover meal — actually follows a Hellenistic form:  it's a symposium, a feast in which the gathering converses into the night on some topic of interest or importance.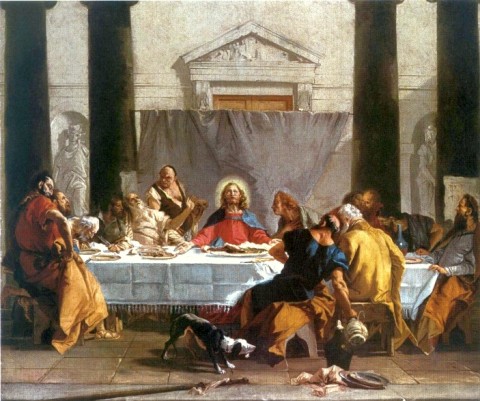 When a symposium is a seder the focus is on liberation, on justice, on the meaning of freedom and on the obligations that such a transformation imposes on those who are no longer slaves.  Most important, by long tradition and, in the best of my family's customs, the Passover story is one to be told and re-imagined in the present tense.  That's the meaning of the phrase in the traditional text (the Haggadah) cited in the title to this post.  Every year we are enjoined to tell the tale and to discuss its meaning understanding that we ourselves took part in the exodus.  We talk through the ritual of getting up on our own hind legs and moving (fitfully, incompletely) along that long arc that bends towards justice — us, ourselves — with no "as if" caveats involved.
I thought of all this reading Tom Junod's post over at Charles Pierce's shop on the gay marriage battle.  In it, he writes of his 28 year marriage, and his understanding that no one else's nuptials constrain his own.  He writes, rightly, "like anyone who has ever been married, I understood that whatever threat there was to my marriage came from within rather than from without."
That's true — or rather, it's a commonplace, obvious, the baseline of a humane understanding of love, connection and commitment.  But Junod is after more than a well-spoken penetrating glimpse of the obvious.  The meat of his piece lies with his account of the way in which his straight family is, in the eyes of those fighting the bad fight against same-sex marriage, gay as the day is long:
…my wife and I are not of the same sex; I am a man and she is a woman. But we are infertile. We did not procreate. For the past nine years, we have been the adoptive parents of our daughter; we are legally her mother and father, but not biologically, and since Tuesday have been surprised and saddened to be reminded that for a sizable minority of the American public our lack of biological capacity makes all the difference — and dooms our marriage and our family to second-class status.

…..before long I started hearing an argument based on biology or, as groups such as the National Organization for Marriage would have it, "nature." For all its philosophical window dressing — for all its invocation of natural law, teleological destiny, and the "complementary" nature of man and woman — this argument ultimately rested on a schoolyard-level obsession with private parts, and with what did, or did not, "fit." There was "natural marriage" and "unnatural" marriage, and it was easy to tell the difference between them by how many children they produced. A natural marriage not only produced children; it existed for the purpose of producing children. An unnatural marriage not only failed to produce children; it resorted to procuring children through unnatural means, from artificial insemination to surrogacy to, yes, adoption.
To be clear:  Junod is not pulling a Portman.  He makes it plain that his conviction in favor of gay civil rights derives not from his personal skin in the game as discovered in the "gayness" of his family, but from the idea limned above, that one's marriage is one's own business, and the opportunity to experience marriage is a universal right.
No, the point Junod makes here is that the recent arguments have distilled the anti-civil-rights position to its most craven and ugly core. To those seeking to bar same-sex civil equality, the only acceptable form of marriage is one in which children emerge the old fashioned way.  It is one in which the core function for the woman involved is as an incubator.  It is one which denies every other possibility that two people could form a lasting commitment to each other centered on affection, on daily business of making a life across all the dimensions we traverse in this world.  As Junod re-articulates, the campaign against gay marriage is not mere selective disdain for one class of people.  It is (as all civil rights battles are at the root) an affront to everyone's claim to full humanity.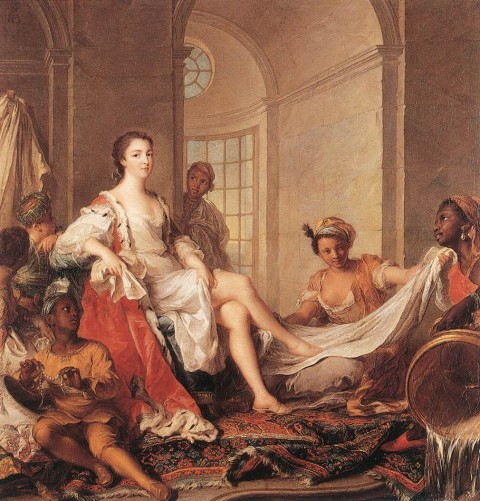 Again, that's the nature of civil rights:  when you deprive people of rights to their own labor, their own person, those slaves suffer the worst of the damage by far — but no one gets out of that relationship unscathed.  Masters and indifferent bystanders suffer diminuition too.  When you deny access to the vote, and hence to power, and hence to practical autonomy…well, hell.  It's not as if Jim Crow brought the south a dynamic economy or cultural life.
And, as Junod writes, when you demand that some among us must do without the full emotional, spiritual and public benefits and obligations of marriage because only baby factories need apply?  The contraction of human possibility is obvious, and universal.
This all struck home the more because like Junod, my wife and I are adoptive parents.  I try never to discuss personal matters on the 'tubes unless they belong to me exclusively.  My wife's life and that of my son are theirs; I try not to trespass there in any matter of substance.  So I'm not going to provide any context, any further information, nothing, except that one fact, and it's bearing on this issue.
I confess, I hadn't been paying close attention to the "marriage-must-produce-children" nonsense until reading Junod just now.  First — it seemed purely risible, just monumentally stupid.  Menopausal women and low sperm-count-men shouldn't marry?–and so on.  The claim reduces itself to absurdity without any external effort.  And second, who needed that deep foolishness to be persuaded of the case for marriage equality?  If I had a damascene moment, it came years ago, in the nineties, when I was working on a book in Berlin, and passed every day the unobtrusive triangular plaque on the side of the Nollendorfplatz U-bahn station, memorializing the 25,000 gay men transported to the camps under the Nazis.  If any lone symbol can wake one to the implications of any denial of full civil status, that one does. And there's always the my-enemy's-enemies test to fall back on too.
But Junod's post reminded me of the deeper point.  It's not that by virtue of being an adoptive parent I share in the stigma that anti-marriage-equality are trying to paint on my gay friends, neighbors, fellow-citizens. Rather, this is what the Hagadah said to me this Monday; what it will say again (eccentrically) tonight.  The fact that my son came to me from beyond the walls of biology is my joy, and it reminds me that this is happening  — right now — to me as I leave Egypt.
Try to deny that, try to diminish me to some fraction of myself, my procreative possibility or whatever, and I need to demand justice for me and my family.  And, as always, it can't be justice unless it is not for me alone.  To paraphrase again the words of the old text:
This year we may all be slaves.
Next year may we all be free.
Images:  Giovanni Domenico Tiepolo, The Last Supper, c.1750
Jean-Marc Nettier, Madame de Clermont as a Sultana, 1733.