Let's say you are the editor of essentially the last rag standing, the final remnant of the once insanely influential tribe of dead-tree general-interest newsweeklies.  Let's say you are the lord of Time.
Now, we all know Time is increasingly just another one of time's victims, a dinosaur in a world filled with post-CGI-meteor digital mammals (extended grotesque metaphor in honor of the party of the first part).  So if you're the editor, you've got a tough trick:  how to cut through all those pesky byting insects? (Consistency? we don't got no consistency.  We don't need no Kinky People Can Often Find Good Sex consistency!)
And finally, let's say you have no moral compass; you don't care about what's true, or about the pain your decisions could inflict on millions of people touched by the subject of your cover story.
That's when you come up with this: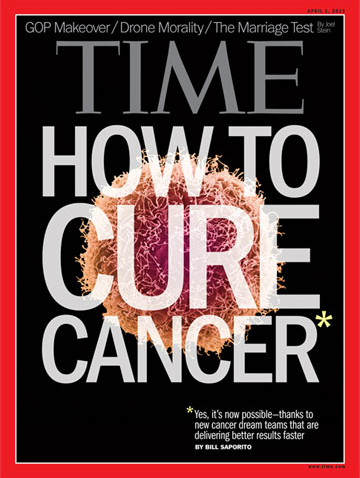 It's not possible. We're nowhere near what's promised on that cover.  Hell, even conceptually, you can't "cure" "cancer."  It's a family of illnesses that share certain characteristics (most importantly, uncontrolled cell division) but that present a whole host of different pathologies and possibilities for treatment; no matter what advances may come, no one who can count past three expects some unitary cure.  But rather than rant on, I'm just going to outsource my rage and disdain to my friend (and MIT colleague) Seth Mnookin, writing yesterday in Slate:
 Witness the headline emblazoned in all-caps on the cover of the magazine's April 1 issue: "HOW TO CURE CANCER." It's followed by an asterisk that directs you to a subtitle, just to make sure you get the point: "Yes, it's now possible, thanks to new cancer dream teams that are delivering better results faster."
Which, of course, is completely, utterly, inarguably false. The roughly 580,000 Americans who will die this year from cancer know the reality all too well. For some context, that's more people than will die from chronic lower respiratory diseases, strokes, accidents, Alzheimer's disease, and diabetes combined.
According to Seth, the actual story is more a squib than the blatant idiocy implied by the cover, which is a minor relief.  But the cover on its own is hugely damaging — and Seth gets into what makes it so before coming to the heart of the matter:
Which brings us to the real problem with Time's headline, which is not that it's wrong, or even that it might create funding problems for future cancer researchers—it's that in the context of a fatal disease with excruciatingly painful treatment options, it's simply cruel.
Exactly.  Cancer has harrowed my own family — non-small-cell lung cancer took my mother ten days before my scheduled wedding, for one example — so I know to the bone what it feels like to encounter witless fantasies like this one.  But it shouldn't require such a loss to grasp the fact that you don't get to put the word "cancer" and the word "cure" in the same sentence — hell the same paragraph — unless you've cleared the wards and are carrying some folks to Stockholm in sedan chairs.  Go read Seth — and spit on the ground in front of the display everytime you see one of these.
Oh…one more thing: if you had any doubt that the newsweeklies had fully and fatally jumped the shark, doubt no more.