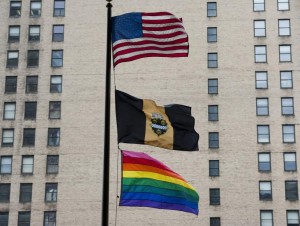 Had to go to the airport to pick up a friend, and listened to a little of the Pittsburgh am talk, and this is apparently the issue driving local wingnuts insane:
A rainbow flag flying outside the City-County Building, Downtown, led Mary Ann Burkhart to take a stand.

Burkhart of Bethel Park took issue with a decision by Pittsburgh Mayor Luke Ravenstahl's administration to hoist the flag representing the lesbian, gay, bisexual and transgender community on Wednesday, when the U.S. Supreme Court heard arguments for a second day on gay marriage.

"This is outrageous," Burkhart said on Thursday. "What's the message here? You can't not speak up."

Ravenstahl's office received a few calls about the flag, a symbol of gay pride, that it said flew "in recognition" of the high court's consideration of the federal law defining marriage as between one man and one woman.

Marissa Doyle, a Ravenstahl spokeswoman, said she was not sure if all the callers complained. She said workers took down the flag, which flew below the American flag and the city flag, after rallies on Wednesday in support of gay marriage.

Still, it left Burkhart seeing red.

"Lesbians, gays and transsexuals are honored … under a flag that many people have died for?" she said. "I'm crying for my country."
Who will think of the fee-fees of our bigots? And the best part is she is not even from Pittsburgh, but Bethel Park.