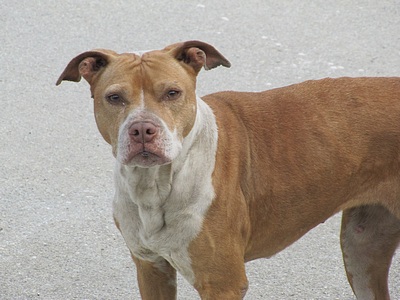 Via commentor Jebediah, who adds "I rent and we are at our pet limit, otherwise I would grab her":
The dog we have come to know and love, Duchess, is at the WLA Animal Shelter Impound #1379706 (holding period of 7 days ended 3/28) needs to be rescued ASAP before she is euthanized, possibly as soon as 2-3 days from today. She is 45 lbs, spayed female and over 5 years old. (Note: we found out later her name is not Duchess and the Animal Shelter named her Lucy.)

The shelter may be willing to give this dog only those few days due to a sore on her buttocks which needs to be treated. Eldad Hagar, of Hope for Paws org, has pledged to do any necessary surgery for the dog once she is pulled from the shelter. In addition, he will pay $1000 to that agency (as long as it is 501C-3).

The dog came to our notice on 3/20 that she was in the flood control channel, when we heard her howl at night, looking for her owners and a way out. She relentlessly ran back and forth in the channels for 3-4 days without a whimper. We were unable to leash her to safety, but during two attempts, although she seemed scared for her life, never growled or showed any aggression. The Mar Vista community pulled together. Two brothers in the area went down in the channel and finally blanketed and saved the dog. Once being placed gently in the trap the animal shelter had provided, the consoled dog ate from the rescuer's hand and allowed him to touch her teeth. The rescuer had saved another dog in the past and recognizes the trick the channels' acoustics play on animals – it is a very threatening place to be in and very understandable that the dog was fearing for her life. She is a survivor.

Through these 3-4 days before being taken into the shelter, she was a dignified, graceful and very loving dog (went directly up to the high school students next door). I had a couple of fences between me and her, so unable to get up that close when I fed her for those days. I have grown to love this dog for her grace and intelligence.

Now that she has been at the shelter for 7 days, she looks as if she has lost her spirit. She needs to be saved and be placed in a loving home.

This is urgent. She only has a few days.Can anyone help?
Best I can establish, with my primitive Google skillz, the West LA Shelter is at 11361 West Pico Blvd, phone #(888) 4LA-PET1 or (888) 452- 7381. If I'm wrong, or if you've got a lead, send me an email at AnneLaurie (at) verizon.net — click on my name in the right-hand column — and I'll put you in touch with Jebadiah.