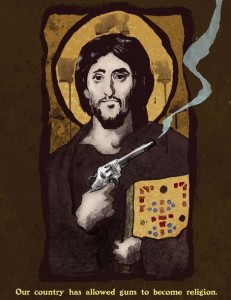 (Gun Religion, A.E.Kieren)
.
From The Gun Show, via Van Jones' Rebuild the Dream.
I like Kieren's poster because it really captures how the NRA and its paymasters have turned the Second Amendment into a a (red) state religion — a tribalist touchstone for the hoi polloi, and an infinitely useful tool of control for the Owner Class.
**********************
Assuming we've all survived the worst of the practical jokers, what's on the agenda for the evening?