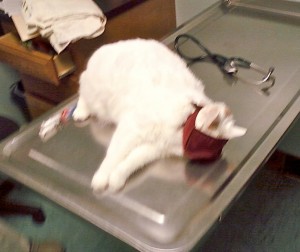 After a great deal of thought, DougJ, Mistermix, and I have decided that we need to make a few additional changes along with the site rebuild we will be rolling out. When I first stumbled into blogging over 12 years ago, it was for two one reasons: curiosity and freedom I'd grown tired of Unreal Tournament 99 and was sick of dealing with the same assholes on my UT Clan forum. I was curious about the potential for writing in this new medium; and for the first time, I felt total freedom as a writer No one was reading me so no one could disagree. On my little blog, I was beholden to no one but my readers. I had no editor to please, no advertiser to woo, no publisher to work for, no colleagues to manage. Perhaps it was working for so long in old media that made me appreciate this breakthrough so much. But it still exhilarates every day. It gave me something to do when I was hungover and there were no sports on.
For the first time in human history, a writer – or group of writers and editors – can instantly reach readers – even hundreds of thousands of readers across the planet – with no intermediary at all. In my case, both of them.
And they can reach back. Few discovered this as quickly as I did – and as the Dish this mutually agreed upon wankfest evolved over the first six years, I was forced to admit when I was wrong (see: George W. Bush, 9/11, the Iraq War, etc), and it was not pretty at times. Looking back, I realize that in many ways, you, the readers, made that unavoidable. I had to face you every day. And you were merciless gutless sycophants who just need pictures of my morbidly obese cat or read that I've engaged in the slightest bit of human decency and you spend 300 comments telling me how fucking awesome I am.
***
But as the pretense of old media authority ceded to the crowd-sourcing of argument, fact and thought, one thing remained elusive: how to make this work financially.
***
And so last week, the three of us signed an agreement setting up an independent company called Dish Publishing LLC Tunch and Lily Media, and agreed to strike out on our own with no safety net below us but you.
***
So for the next month, we're going to offer you advance membership of the Dish Balloon Juice for $19.99 a year, which translates to $1.67 a month, which is around a nickel a day. The meter won't start until May, and the price won't change then, but by pre-subscribing, you give us a crucial financial bridge to get to independence – and you'll never notice a thing when the transition happens.
To be honest, we didn't know where to set the price – we have almost no precedents for where we want to go – but $19.99 seemed the lowest compatible with a serious venture. We wanted to make this as affordable as possible, while maximizing revenues.
As such, we would like to thank you in advance for subscribing, and hope you help us reach our goal of $6,000,000 so that we can continue operations here. Just hit the paypal link above, and when you make your payment, make sure you write "I'M STUPID AS HELL" in the comments section so that my staff will know to send you a receipt. And if you don't, well, the cat gets it.
*** Update ***
Umm, April Fools. Stop sending money, morans.