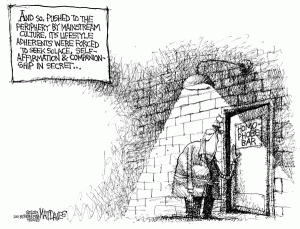 (Matt Davies via GoComics.com)
.
Gonna trespass on DougJ's turf to share Matt Taibbi regarding David Brooks' latest, "one of the weirdest, most mean-spirited things I've ever seen in The New York Times":
… The condescension is bad, but the argument is even worse. Brooks is trying to make a "point" here – he takes something like 800 words to make it, but it boils down to a single snarky observation: "Isn't it ironic that these same people who've been fighting for the right to personal indulgence for all these decades since the Sixties are now fighting for the right to be legally restrained?"…

This whole same-sex marriage issue is much less about freedom than it is about justice. This is about a group of people wanting to be fully recognized as citizens, with absolutely equal rights, who among other things no longer want to subsidize the tax-advantaged marriages of straight people like Brooks. To even try to view this issue through the perils-of-permissive-society lens that Brooks has been obsessed with for years is incredibly insulting, but that's exactly where he goes:

Americans may no longer have a vocabulary to explain why freedom should sometimes be constricted, but they like it when they see people trying to do it. Once Americans acknowledged gay people exist, then, of course, they wanted them enmeshed in webs of obligation.

Translated into human English, this passage would read something like this: "The reason same-sex marriage enjoys such inexplicably broad support now is because middle America wants to throw a net over gay culture, now that it's been let out of its cage."
And yet Brooks is still more logical, barely, than Louie Gohmert, defending his title as the Dumbest Republican Currently Holding Elective Office, who opposes any form of gun control because gay marriage leads to beastiality.
Maybe we should put these two men in a room together, somewhere they can share their unique insights with each other. And I vote we lock the door from the outside, just as a demonstration.