Had a super busy day and didn't get around to posting all day, although I did send DougJ a link to this abomination in the hopes he would deal with it:
The most underrated policy option in America—cut public services to cut taxes on the masses: slate.com/blogs/moneybox…

— Matt Yglesias (@mattyglesias) April 3, 2013
Go fuck yourself. Let's cut bus service and Medicaid so the people who use them can get a tax cut. PRO-TIP, DOUCHENOZZLE- the people using these services are only paying payroll taxes. What makes this even worse is Yglesias was a huge fan of saving the payroll tax cut. You know what- basic fucking services are more important than a payroll tax cut, but even then, the progressive position would be to expand services to the poor while exempting the lower income earners while expanding the payroll tax beyond the current levels. Poor people don't need fucking tax cuts. They need our fucking help. There are far more things I could say right now, but I am hammered and hoping DougJ deals with this more fully tomorrow.
At any rate, now that I have that out of my system, I just got back from a very nice dinner. It was my buddy Walt's 45th birthday on Monday, so I took him out to dinner tonight and we had a great meal and an even better time. Met a lot of nice people, ate a solid meal, had some drinks (ELEVENTY MARTINIS AND GOD BLESS OLIVES STUFFED WITH BLUE CHEESE- IS IT AN APPETIZER, OR IS IT A DRINK? WHO CARES, KEEP THEM COMING TILL I FALL OVER AND THEN BRING THEM TWO AT A TIME), and came home: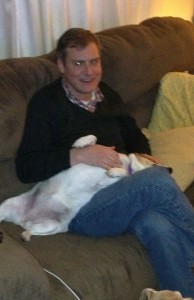 When I first got Rosie and she was all snarly and ill behaved and we nicknamed her Snarls Barkley because of all of her resource guarding and issues, Walt used to frequently say I should have her put down because she was damaged goods and could never be saved. I always told him, "Give me some time. I am a firm believer that my sedentary and zen-like lifestyle can rescue this dog and turn her around. She just needs to know she is loved and secure, and she will be fine." He never believed me, but dogs are just so easy. Don't be a dick and provide them stability, some hugs, some walks, and some steady meals, and they are some seriously resilient animals.
Now, a couple years later, and Rosie almost date rapes Walt every time he comes over, she loves him so much. I always want to say "HE WANTED TO HAVE YOU PUT DOWN," but you know what, who cares about shit like that? Walt's happy, Rosie is happy, and so am I. Tomorrow morning is going to suck, though.