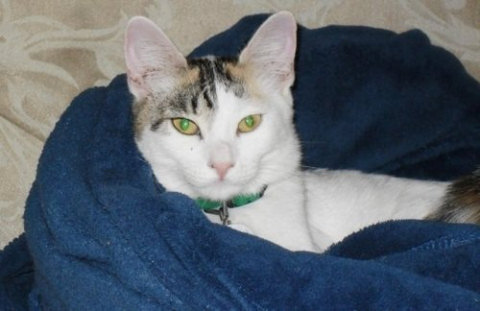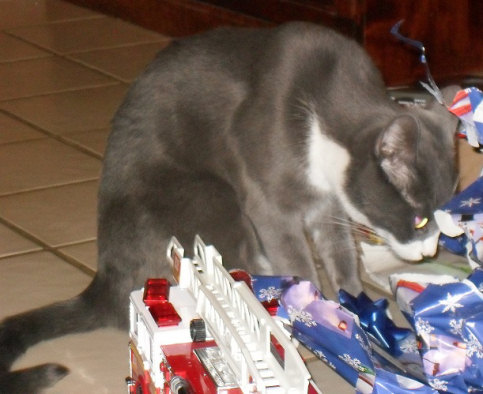 .
From commentor Mrs. D.Ranged:
I am asking your help with my two cats, Snow Shooz and Cry Baby (and no, I didn't choose those names, shelter names that stuck).

Over the last 5 months my daughter's and boyfriend's asthma worsened until I had to ban the cats from the bedrooms in our tiny two bedroom apartment and even that hasn't worked to lessen the problem. Even I've started having really bad reactions to them when they approach me for affection. At the same time my life became extremely busy with a new job and increased time with my daughter. So the cats were restricted to a very small area (they never go outside) and I just can't give them any attention. As a result they have become very unhappy and it is affecting their behavior. You know how cats get when they are mad at someone. Well, they've never acted like that before and I feel horrible about it. And things aren't going to get better in the foreseeable future. I need to find a new home for them and I can't bear the thought of giving them back to the Humane Shelter where we adopted them as two sickly kittens.

They are both approximately 2 1/2 years old. Snow Shooz, the male, is a "tuxedo" cat, but with dark gray fur instead of black. He has beautiful eyes. He's very playful, smart, and affectionate. Back in happier days he would talk to me, saying "Mama".

Cry Baby, the female, is an incredibly sweet and passive calico. She is so sweet that she tolerates a lot of crap from my two year old and the worst thing she has ever done was run away from him. They're awesome cats but they are unhappy and they deserve better.

Thanks to the generosity of some BJ April Fools, both cats have just been checked by a vet, and are up to date on their shots. Both are fixed but have their claws.

I am looking for someone in Arizona to take them, but am willing to drive them to someone in adjacent states (CA, NM, NV). Ideally, finding a home for both of them would be great. But if not, separate homes is fine too. I have a kitty condo for them that can go with one of them and a scratching post to go with the other.
If you are interested, or have a lead, contact me at annelaurie (at) verizon.net — click on my name in the right-hand column — and I'll put you in touch with Mrs. D.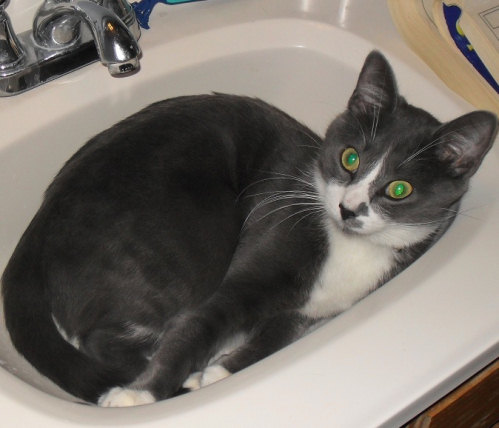 .