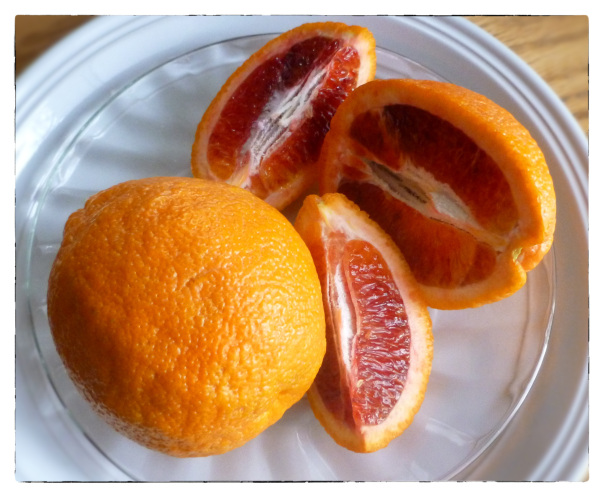 .
From our Food Goddess, TaMara:
Tonight's recipe exchange is going to be a quick one. It's been a stressful week – the little company I work with is downsizing (you can read about it here) and I'm busy helping them restructure. The weekend cannot come soon enough. Time to get out and ride and maybe do some gardening.

Meanwhile, in the kitchen, it's Blood Orange season and I thought I'd take advantage. I know we just did oranges, but that's actually one of the reasons for tonight's theme. I received an email question about using blood oranges instead of Clementine's in the Orange Bread recipe. That reminded me to go looking for blood oranges. Usually I have a difficult time finding them, but a new Sprouts Market opened in my neighborhood and they have a great fresh produce section where I've been able to find all kinds of fun stuff. Including some beautiful and flavorful blood oranges.

If you haven't ever had them, they are sweeter than navel oranges, a little bit of a raspberry flavor, I guess, to them. A nice mix of sweet and tart flavors. Here's a bit of an explanation over at Sunkist. Really anything you do with oranges, you can do with blood oranges and get a really pretty display in the process.

So with that, I have three recipes for you and, sorry, no photos, it took all the energy I had left just to put together the recipes.

First up: Blood Orange Salad (click here)

Next: Blood Orange Coleslaw (click here)

What's going on in your kitchen this weekend? Anything fun? Anyone firing up the grill yet?

And finally tonight's featured recipe:

Blood Orange Glaze and Salsa

This was originally meant for a firm white fish, but it works well with chicken, salmon and pork. So I thought I'd give you the basics and you can experiment with how you use them.

If you can't find blood oranges, you can substitute ruby red grapefruit, or use all navel oranges, maybe add some raspberries for a nice flavor.

Blood Orange Glaze

1/2 cup blood orange juice
2 tbsp honey
2 tsp orange zest
pinch of crushed red pepper flakes
salt & pepper to taste

Warm honey and orange juice until the honey is completely melted. Stir in zest, pepper flakes, salt & pepper. Broil (set rack at second level from the top) or grill fish fillets, pounded chicken breasts or boneless pork chops, basting with the sauce and turning frequently until cooked through and glaze is carmelized. Top with salsa (recipe below).

Blood Orange Salsa

4 blood oranges, peeled, sectioned and chopped
1 tsp orange zest
1 naval orange, peeled, sectioned & chopped
4 green onions, chopped
1 small jalapeno, finely chopped
1 tbsp chopped fresh cilantro
1 tbsp limejuice
Salt & pepper to tastelarge bowl

Mix all ingredients in a large bowl and set aside for about 30 minutes.