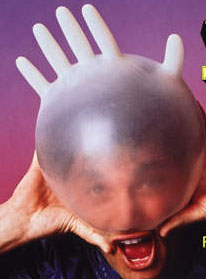 It just never stops with these guys:
The lead scientist of a federally funded condom research study is firing back at Fox News commentator Sean Hannity and other conservatives after they charged that the $423,000 project was wasteful spending.

"I would tell Sean, if you look at the number of people who are affected by sexually transmitted diseases, HIV and unwanted pregnancies — there's clearly a need for prevention intervention programs to be developed further and we need research like this to address problems that impact people's health," Erick Janssen, a senior scientist on an Indiana University study about condoms, told POLITICO.

"This is not a study for how to put on a condom," he added. This is also not about why people might not like condoms. Everybody knows why people don't like condoms. It's more complicated than that."

On Thursday Hannity joked about the study on his Fox News program and it was also noted by The Weekly Standard.

"Did you know that your paycheck was hit in order to fund a study on how to use condoms correctly? I don't make this up. In Indiana University, they received that money as part of a stimulus grant and it cost you over $423,000," Hannity said. "Oh, and surprisingly, it created zero jobs."
Sounds like this guy needs a countertop inspection.