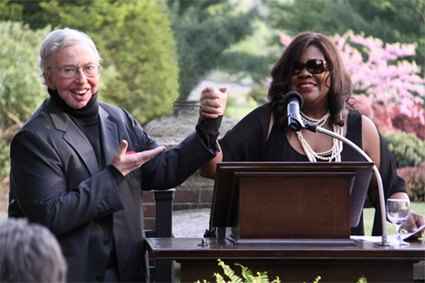 I never met Roger Ebert. (I know, it's astonishing to me too.)
And yet, I spent so much time with him over the years that he feels like a dear friend. I know what he thought about so many things – not just about movies, but about war, and justice and fairness, the joy of life and love, and the pain of illness. He shared himself with us, his life and that wonderful brain, his wonderful words, so finely crafted.
He was my friend, our friend, even if we never spoke, never met. He was a gentleman, and I am very glad that his ending too was gentle.
I could link you to something fine that Roger wrote about the art of film, and its capacity to elevate us all, but fuck that frankly. Instead, I'll follow the suggestion of Gordon, the Big Express Engine, in Cole's lovely Roger Ebert thread, and link you to Roger's review of Deuce Bigalow: European Gigolo, which makes me laugh like a drain. Go read the whole thing. To the very end, mind you.
Cheers, Roger.
"Deuce Bigalow: European Gigolo" makes a living cleaning fish tanks and occasionally prostituting himself. How much he charges I'm not sure, but the price is worth it if it keeps him off the streets and out of another movie. "Deuce Bigalow" is aggressively bad, as if it wants to cause suffering to the audience. The best thing about it is that it runs for only 75 minutes.

Rob Schneider is back, playing a male prostitute (or, as the movie reminds us dozens of times, a "man whore"). He is not a gay hustler, but specializes in pleasuring women, although the movie's closest thing to a sex scene is when he wears diapers on orders from a giantess. Oh, and he goes to dinner with a woman with a laryngectomy, who sprays wine on him through her neck vent.

The plot: Deuce visits his friend T.J. Hicks (Eddie Griffin) in Amsterdam, where T.J. is a pimp specializing in man-whores. Business is bad, because a serial killer is murdering male prostitutes, and so Deuce acts as a decoy to entrap the killer. In his investigation he encounters a woman with a penis for a nose. You don't want to know what happens when she sneezes.

Does this sound like a movie you want to see? It sounds to me like a movie that Columbia Pictures and the film's producers (Glenn S. Gainor, Jack Giarraputo, Tom McNulty, Nathan Talbert Reimann, Adam Sandler and John Schneider) should be discussing in long, sad conversations with their inner child.
— Deuce Bigalow: European Gigolo, by Roger Ebert, Chicago Sun Times, August 12, 2005
Photo by Omar Moore