Sitting here watching the Pens, and noticed that Lily had jumped up on my lap and I apparently had been rubbing her ears for the last, well, who knows how long. I just can not believe it is going on four years since she rescued me.
I had Ajax as my first dog when I was a kid, a little mutt who my parents gave me a couple weeks before Christmas. I woke up, and there was a pup in my bed and they told me Merry Christmas (a bit early) and I said "I want to name him Ajax!" He was never my dog, though, because I never took care of him because I was only six or so and almost as immature as I am now. So Lily and Rosie are my first real dogs, and I guess I didn't realize that your relationship with your dog gets stronger and stronger by the day. But it really does. Whenever I travel, I wake up multiple times looking for the lumps underneath the covers, and they aren't there.
I'm including this picture of Ajax and Mr. Purr Puff, just because both of them were such perfect pets: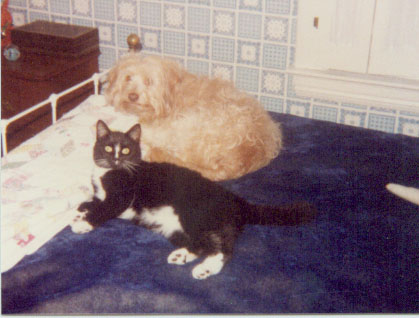 I really wish there was some way of conveying how awesome Mr. Purr Puff was. We got him from the frat boys down the block, his tail had been cut off in a door so it was only about six inches long, and I am absolutely convinced they blew bong hits (it was the 70's and 80's) into his face for two years before we got him, because he was the most laid back cat ever. I need to dig up some of the pictures of him dressed up in doll clothes by my sisters and sitting in a baby carriage. He didn't give a shit as long as he was fed and warm.
Ramble on. Go PENS!