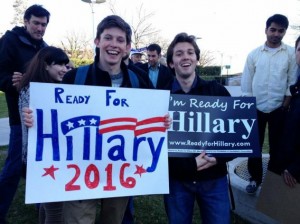 .
Of course it's too soon, and yet: Barring a constitutional amendment, President Obama will be vacating the Oval Office in 2017, and I for one would really like another Democrat to take over when he's done. And whatever might happen in a saner society, the 2016 race is already starting in this one. Dave Weigel (who took the pic, and a bunch more) on "an intrepid bunch":
About 35 people showed up Tuesday night outside Washington's John F. Kennedy Center for the Performing Arts, where Hillary Clinton was making her first public appearance since stepping down as Secretary of State. Coincidentally, it was also the first public appearance for the Ready for Hillary PAC, which you can and should read more about here. I asked a few of the group's members what brought them out on a chilly April evening two years and eight months ahead of the Iowa caucuses….
Charlie Pierce with some background info for people who weren't paying attention in the 1990s, or who may have chosen to put the whole tawdry goat rodeo out of their beautiful minds:
… There is nobody who more people want to run for president than Hillary Clinton. This does not merely include the people who want her to run because they think she'd make a good president, though I think she would, too. This includes people — inside the news business and out — for whom the carnival of nonsense surrounding the Clinton presidency — Impeachment? Over a blowjob? Honky, please. — was the formative political experience of their lives. Some of us had the civil rights movement. Some of us had Vietnam. Some of us had Watergate. Some of us even had the mock-turtle pageantry of the Reagan years. (Far too few of us had Iran-Contra, but that's a different kettle of lye.) For an entire generation of the politically aware, the Great Penis Pursuit was the time when politics was the most exciting and the most fun. Many of these youngsters are now influential in the news business.

And Hillary Clinton was most assuredly a main character in that. She was the crafty lesbian whose heterosexual wiles snared poor Vince Foster, whom she then had to have killed because he knew what was in The Billing Records. She was the Oval Office dominatrix — thanks, Spy — who fired the poor career grifters in the White House travel office. She was the Hildebeast, the howling haunt of a million rightwing fever dreams, and a woman who scared the tingle right out of Chris Matthews's leg…

What is largely lost, of course, is that the entire years was an extended exercise in hysteria, unreason, and weaponized malarkey. Whitewater was a joke. Kenneth Starr was a hack… With a few notable exceptions, the elite news industry was completely manipulated and completely cowed by a network of low-rent ratfkers, most of whom are still working the field today. (David Bossie, the founder of Citizens United, and an early anti-Clinton fanatic, now has had his ratfking blessed by the Supreme Court.) The Great Penis Pursuit was the precursor of the media malpractice that led to the inexcusable coverage of Al Gore's campaign, the equally inexcusable coverage of the theft of the 2000 election, and the ultimately inexcusable coverage of the run-up to the Iraq war. The credulity over Whitewater leads in a direct line to the credulity over WMD's and Mohammad Atta's sipping coffee in Prague…
Argument in favor of Hillary running: Republican David Frum, one of Dubya's lead enablers/lampreys, is already warning against the idea.
Alex Pareene invents the Mark Penn Test, which I agree is a useful metric:
… The question for someone considering whether or not to support Clinton in 2016 is, will a Clinton 2016 campaign pass the Mark Penn Test? The Mark Penn Test, which I just invented, determines whether or not a person should be trusted with the presidency, based solely on one criterion: Whether or not they pay Mark Penn to do anything for their campaign. Paying Mark Penn means you've failed the Mark Penn Test.

Mark Penn is a pollster and political strategist and amoral P.R. creature who is generally wrong about everything. To find out how incompetent Mark Penn is at campaign strategy and how personally toxic he is in a campaign working environment go to your local library and check out literally any book about the 2008 presidential race. For the basics, check here and here. In short, he had no clue how the primaries actually worked and constantly pushed for the campaign to go as nasty and negative as possible, and everyone hated him and he was bad at his job and eventually he was fired…
Personal disclosure: I never thought Hillary would run for President at all, because I'd spent years watching Teddy Kennedy flinch at every sudden noise, and I remembered the hatred directed against the Clintons and the weirdly personal hatred directed at 'the Hildebeast' in particular. My original choice in 2008 was John Edwards, because he was the only one talking about "two Americas", so you can see just how well I judged the permissible boundaries of modern American politicking. I will support whoever ends up as the Democratic candidate in 2016, but I'd kind of like to see a female president in my lifetime, and right now I don't see a more likely candidate than Hillary Clinton on either end of the political spectrum.