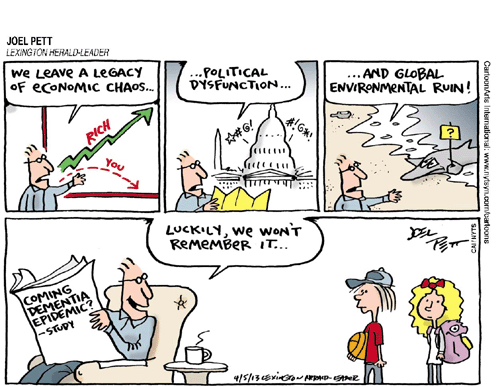 (Joel Pett via GoComics.com)
.
Guess Bob Woodwood's latest bitchbrick about That Black Man in Our White House didn't get as much blind approbation as he thought it deserved, because (via Wonkette) Bob's out in the hustings of Youngstown State University, pontificating about kids these days, who don't understand How Things Should Work:
… Woodward called Obama a "complex political figure" who "understands the truth in the notion that he who desires peace must be prepared for war. The inner Obama does not like war and wants to get out" of it….
Bob was in The Good War, y'know, before that loser Nixon turned all the young people into wussies.
The legendary journalist said partisanship runs Washington, D.C., and is largely responsible for the nation's economic woes…

In response to an English major college student who asked about the difficulty of finding employment, Woodward said, "I think there will be all kinds of jobs and opportunities, but the political class needs to get their act together."

Woodward said partisanship would lessen if people spent more time together and realized the person on the other side of the table is a friend rather than an enemy because he is the person who can give you what you want….
And there's the core Beltway Insider definition of "friend": Someone who can give you what you want. Right now. In return for your "bipartisanship" tomorrow, of course…