"Hey, hey, hey.  Calm down you two.  Reince Priebus is a putz and he's stupid."
"I'm glad to see that as he enters his fifth year in office, President Obama is finally trying to reach across the aisle in the form of dinners with Senate Republicans. However, I would like to offer some advice. Since the president has been complaining loudly about the cutbacks they've had to make at the White House—including tours for schoolchildren—due to the sequester, it only seems appropriate that they avoid the considerable security expenses of dining at an upscale restaurant," Priebus said in a statement.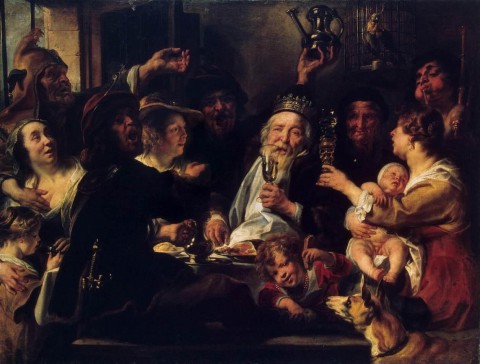 "Instead of eating out as the president and senators did last month, I suggest they eat in.
Uh, Reince?
Obama will be hosting the senators at the White House, as White House spokesman Jay Carney confirmed during a press briefing on Tuesday.
Cue, also, the obligatory pathetic attempt at gotcha humor, with the man Charles Pierce calls "the obvious anagram" offering to buy the President pizza, so as to provide an object lesson in mozzarella economics.  (Grow the pie…get it?)
I will say this.  Barack Hussein Obama has been blessed by the quality of his enemies.
Oh — and yeah.  Someone has to bigfoot John from time to time. (Anne Laurie's check will be here any day now.)
Image:  Jacob Jordaens, The Bean King c. 1638