The bulbs are really having their way with us his year. After a warm and sunny week, Spring's cool rainy pattern has returned to the Willamette Valley (OR) — happy to have had a chance to appreciate (and capture) some daffodils before they got too soggy. Here are a few of the coral-colored lovelies that knock us out this time of year.
… and again: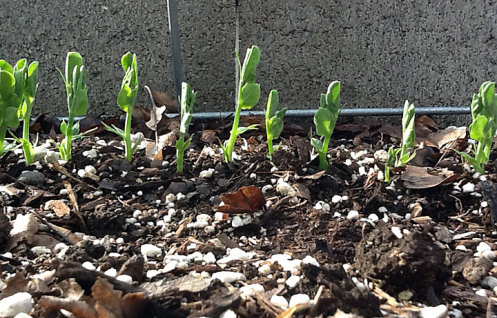 In spring an old woman's fancy turns to thoughts of…well, baby peas, actually.
***********
Between my tree-pollen allergies and a bout of the Martian Death Cough, I haven't been out in the yard all week, but now when I look out the back door I can see the first daffodils opening along the north fence. It's an incentive.
Anybody got a recommendation for a blueberry variety that matures under four feet? Or a source for lingonberry transplants that will do well in New England? I took a couple of carnivorous mini-rose ferals out of a south-facing raised bed in the front yard, and would like to replace them with something more attractive. The bed's semi-shaded by an adjacent cherry tree, and otherwise rampant with vinca, plus some random clumps of siberian irises and nameless daylilies that got transplanted "until I found a better place for them" a couple summers ago…
What's going on in your gardens right now?