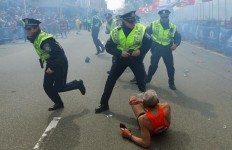 (By John Tlumacki / Globe Staff)
.
.
From the Boston Globe:
EVERETT, Wash. (AP) — A 78-year-old Washington state man running his third Boston Marathon was near the finish line when he was knocked down by one of two bomb blasts and caught in a news photograph that quickly went viral.

Bill Iffrig, of Lake Stevens, told The Herald of Everett that he heard a noise Monday and found himself on the ground.

''It was only 5 feet away from me,'' he said. ''It was really loud.''

He said he ended up with a scrape on his knee, and that a race official helped him to his feet.

Iffrig said most of the other runners near the area weren't as close to the explosion as he was. He walked across the finish line and another half-mile to his hotel. Iffrig said of his proximity to the explosion that it was a ''close one'' and the experience ''scared'' him…
I kid you not: Every local Boston channel showed at least one interview with Mr. Iffrig, pleading for a how bad was it? how traumatized are you? do you think you can ever recover from the horror of that life- changing moment? sound bite, and he just would not take the bait. He got knocked down, scraped his knee, it was pretty scary. Then he got up, and a nice young volunteer made sure he could cross the finish line. Of course he finished the [unspoken expletive] race, he'd just run 26 miles and there was no point in quitting within yards of the goal. When one interviewer pushed him, he added that he'd run last year's Marathon in the record-breaking heat, "and that was pretty bad, but today I was having a good run, right up until that bit at the end."
Keep cahm n kerry ahn, indeed.