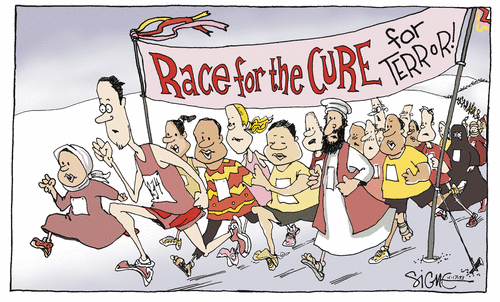 (Signe Wilkinson via GoComics.com)
.
Warning: This New Yorker blog post on the third Marathon victim will break another little piece of your heart.
On the other end of the emotional spectrum, Jason Zengerle at NYMag reports "How Savvy Jenny Sanford Sabotaged Ex-Husband Mark's Political Comeback"
… Indeed, while Jenny has never come out and publicly opposed Mark's congressional candidacy — choosing to remain officially neutral — she's waged a brutally effective passive-aggressive campaign against it. Whether it was revealing to me that Mark had shamelessly asked her to manage his election bid; or telling the Washington Post that, until the night Mark's fiancée showed up onstage at his victory party in April, one of her sons had never met the woman; or just generally making it known that she is furious that he's running, Jenny has done a masterful job of keeping her ex-husband's past (and not-so-past) transgressions in the news. She has seeded the ground with political land mines, stood back, and waited for Mark to step on one.

Now that he has, in the form of this trespassing news, Republicans are cutting bait, with the National Republican Congressional Committee deciding that it's not going to spend any more money on Sanford's behalf. Meanwhile, the conservative group Concerned Women for America has announced that it's contemplating a write-in campaign on behalf of Jenny in the May 2 congressional race: "CWA's staff is still checking the legalities but I gotta say," its head told the Washington Post, "Congresswoman Jenny Sanford has a nice ring to it." She's certainly proven to be a better pol than her ex.
Also, I thought this was an experienced and cynical crowd, and yet nobody in DougJ's earlier thread seems to have shared my first reaction to the news of Mark showing up with a cellphone flashlight when he thought Jenny was out of town… [steel magnolia accent]…
"Mark, I knew ALL ABOUT those nasty, nasty pictures in your 'secret stash' — I burned those vile things ten minutes into your 'Appalachian Hike' — so you can just stop sneaking around like the low dirty hound you are and leave us all in peace!"