Just checking in, really.
Some notes — first, thanks for good thoughts sent our way. My family and I are all OK.  We actually are visiting a very ill relative out of town, so nowhere near any of the mess.  All my wonderful students are OK, I believe, though I can't imagine their state of mind.
I note that those MIT  students finishing up their freshman year have now seen a terrorist attack, a murder on campus, a town in lockdown — and have as some of their formative childhood memories the fall of the towers when they were around six years old.  They've spent almost all of their lives watching the unfolding of wars of choice fought in the case of Iraq on false pretexts.  They seen torture routinized and the only political process they've witnessed is one of persistant anti-democratic manouvering pursued by one of the two major parties in our system.
They remain enormously optimistic (or at least have been in my conversations with them up till the last couple of days). They are phenomenally smart, gifted, optimistic. I damn well hope they stay so.  We need them.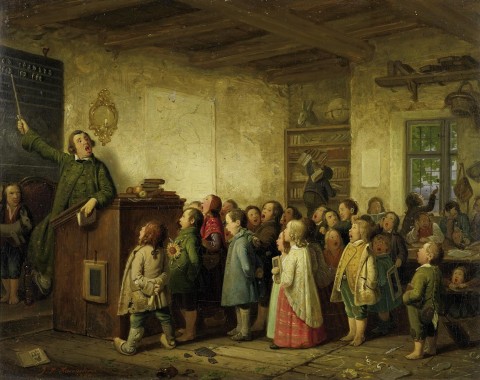 Next:  I'm heartsick at the death of the MIT police officer.  I am for the marathon victims as well of course, and more abstractly for the dead on the street in Iraq, in Mogadishu, in…  But I'm like almost everyone, I think; those losses that strike closest to home color the emotions in a particular way.
Campus cops have a strange, really difficult job:  they have to both police and protect in a hothouse setting full of young (and often insufficiently wise older) folk who are not always sure that the rules and norms of the wider world are more than advisory.  Our force at MIT manages that balancing act really, really well, especially given their charge within a university whose traditions include translocating cop cars to, shall we say, interesting coordinates.*  From the report it sounds like our man was gunned down, really just executed, and I couldn't be more enraged nor heartsick.  I'll save for a different post the political point I think most of you can probable guess. This isn't the time.  But you know I'm thinking it.
More close to home stuff.  One of the graduate students in my department, a really sweet, good guy, turns out to have been long time friends with the Richard family and their eight year old son, Martin, killed  in Monday's bombing.  The connections which bind us all run through all kinds of chance links, but through that pathway that already horrific loss comes closer.  Any murder is hateful, but the killing of kids….I'm not going to write down the words that flow through my head as I cycle back to that.  But I can tell you that, however irrational it may be, my sense of wretched, futile anger ramped up when I learned of the loss refracted through the sorrow of someone I know.
That student and other friends of the family have set up a fund to help the Richards directly — the intention is to cover medical expenses, funeral costs, and whatever else it takes to get through the various horribles coming up over the next while. I've thrown a bit that way, and I offer the link up here if anyone feels so moved.  The "One Fund" to offer help to those affected by the bombings (and, I'd guess though I don't know, those affected by last night/today's evens) is here. I'd note that folks in town and around the country have already been phenomenally generous, and I'll add my private thanks to the much grander and more official ones I'm sure will follow.
Last utterly meaningless coincidence.  The manhunt in Watertown going on as  I write this is right smack in the middle of the neighborhood I lived in until 2009.  My wife just picked up a facebook post of a couple of hours ago from  the friends to whom we sold our apartment.  They were as of that time  hiding down in the basement with their two kids.  They've been there all night, since they heard the explosions, and they are trying to figure out how to get the little one to sleep, while easing the fear in their older child.  Again, close to home.
I write all this aware that around the world what is striking me as an utter derangement of the way life ought to be is simply the status quo.  I know that the US in general is a phenomenally lucky country, spared so much of the horrors visited on folks around the world — sometimes by the explicit policy and actions of the United States of America. (No need to shout DROOOOONES at me, folks).  And you know what?  I think mine is the right reaction.  This stuff is wrong, unacceptable, to be pushed back at home and everywhere.
I'm rambling. I'll stop.
I thank this community for its good wishes, its anger, its humor, and perhaps as much as anything else, its simple presence. It's good to be able to shout, and not simply into the void.  Tip of the hat to y'all — and hug those you love, two footed and four, spend time talking to folks…do all that human stuff.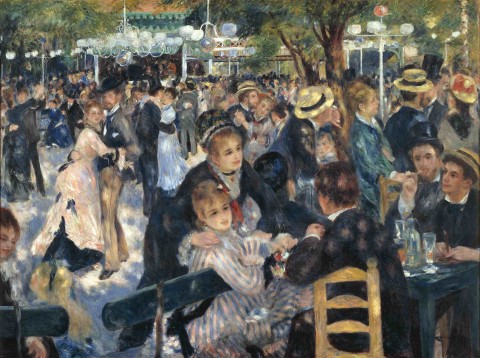 *Other first responders are not immune, either.
Images:  Johann Peter Hasenclever, Jobs as a school teacher, 1845.
Pierre Auguste-Renoir, Bal du moulin de la Galette, 1875