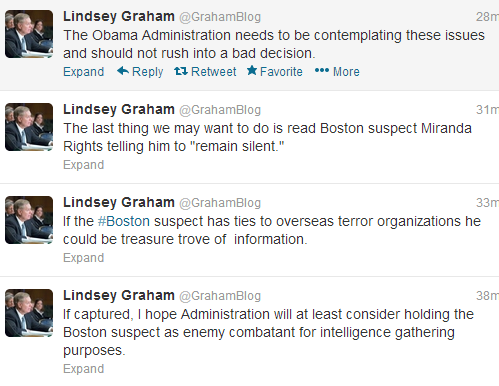 Hey, since we're making shit up, here's an idea: If we do capture #2, let's whisk him to Logan, put him on a private jet, and fly him to Gitmo so we can waterboard him properly. Then, after, oh, six months on bread, water and daily anal probing, we'll make up a whole new set of rules just for this scary boogey man. We'll model them on the UCMJ so we can call it "due process", but make them just a wee bit different in ways that will fuck him over. Then we'll spend months jacking him around, along with the poor lawyers who have to figure out our kangaroo court. And, still, we won't release him.
Or maybe, and I'm spitballing here, so bear with me, we could follow the fucking law, read him his rights as soon as he's arrested, try him in the proper court of jurisdiction with a court-appointed lawyer, in public, just like we do every other citizen of the US, who's presumed innocent until proven guilty.
One of these courses of action will show the world that we are a great country. The sad fact is that Lindsey Graham, who's passed the bar and is a fucking Colonel in the JAG, thinks it's the former, not the latter.